Most of my recipes do not reinvent the wheel (I said most!) One of my favorite culinary "projects" is trying to recreate some of the foods I eat dining out. Especially when Mr. Beet and I travel. But today I bring you a recipe of a local dish I had here in Orlando.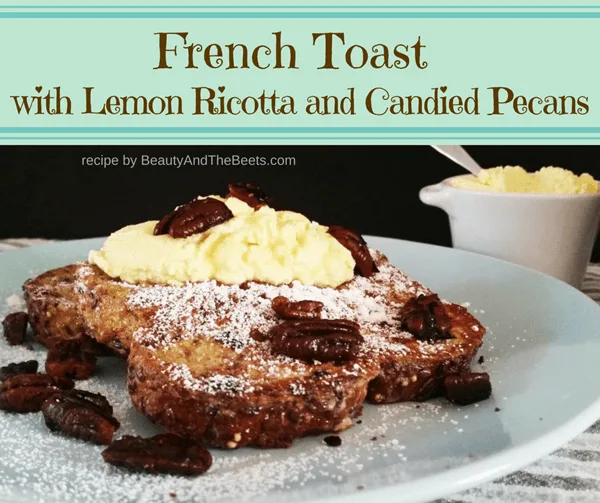 The East End Market, just north of downtown Orlando, is a quaint collection of local fooderies and merchants. From the "peanut butter" cheese at La Femme du Fromage to the indescribable delicacy that is a cookie at Gideon's Bakehouse, East End Market is a really cool place to experience local love in Orlando. There is one little eatery that opened last fall that I have just fallen in love with. Farm and Haus is primarily a Chef-inspired home delivery service, though they do offer a small selection of breakfast and lunch items you can order right at the market and enjoy there. Mr. Beet and I have been here a few times, one trip resulted in the inspiration for my Avocado Toast with Pickled Radish, still one of my favorite recipes to date.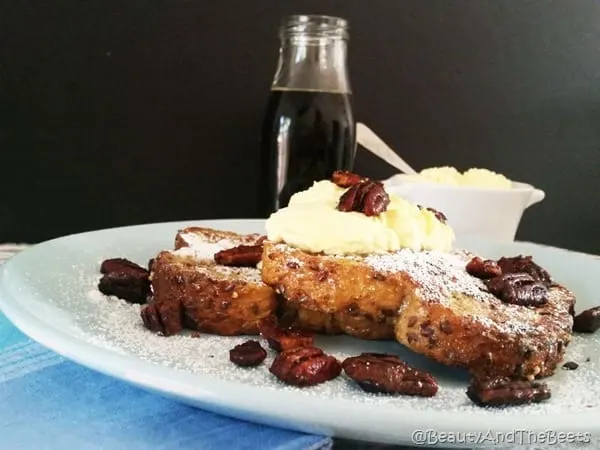 This last trip, Mr. Beet gushed over their French toast. Thin cut artisanal bread, baked and served with a lemon ricotta topping and sugared pecans. This is something that isn't hard to recreate at home, but it is time consuming (as far as fancy French toast goes.)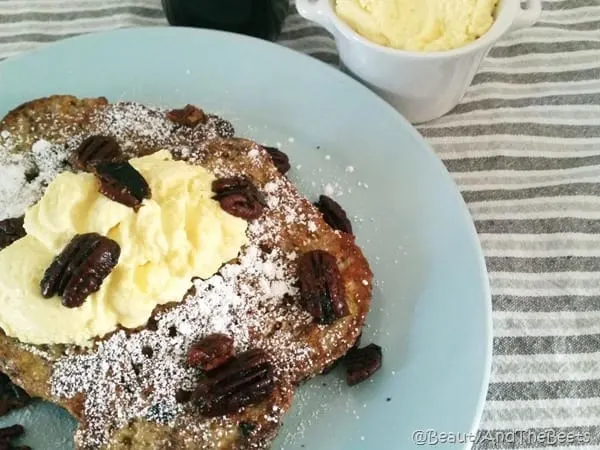 The first step was to make the candied pecans. I make these in very small batches, otherwise I would have these around the house and would eat them all day. Not that candied pecans are super unhealthy, but brown sugar is one of the main ingredients and I like to eat sweets in extreme moderation. But sometimes you just have to break the rules.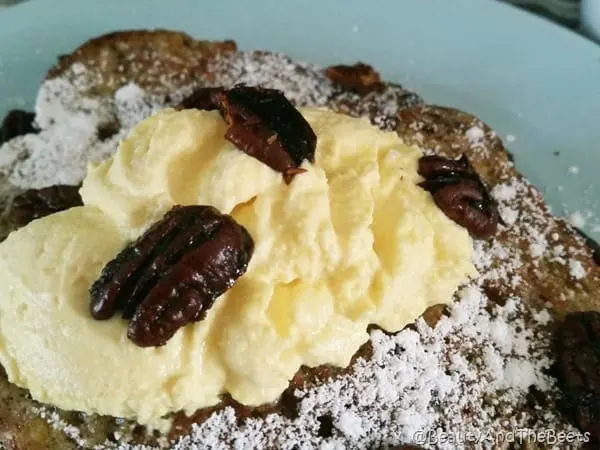 The lemon ricotta uses sugar as well. Again, all in moderation. Mr. Beet and I enjoy this French Toast, Lemon Ricotta and Candied Pecans on occasion. But man it's tasty!!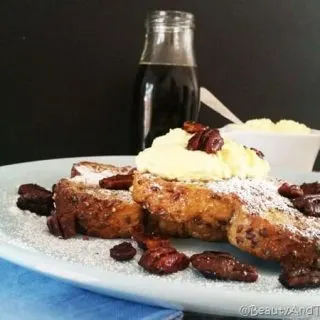 French Toast, Lemon Ricotta & Candied Pecans
Cook Time:
1 hour
6 minutes
Total Time:
1 hour
11 minutes
Inspired by the French Toast from the Farm and Haus Kitchen at East End Market in Orlando.
Ingredients
French Toast:
4 slices thick bread
2 eggs
1/2 tsp. ground nutmeg
Candied Pecans:
1/2 cup brown sugar
2 tsp. ground cinnamon
3 tbsp. coconut oil,, melted (20 seconds in the microwave)
Lemon Ricotta:
2 cups ricotta
the zest of 2 lemons
the juice of 2 lemons
3 tsp. sugar
Instructions
For the candied pecans:
Preheat oven to 250° In a medium bowl, mix the brown sugar, maple syrup, cinnamon and melted coconut oil together.
Add the pecans and coat well. Spread the pecans onto a baking sheet in a single layer.
Bake for 45 hour, stirring about 20 minutes in.
For the lemon ricotta:
In the bowl of a food processor, add the ricotta, lemon zest, lemon juice, vanilla extract and sugar. Pulse until well blended. Set aside
For the French toast:
Preheat a dry skillet over medium high heat.
Crack the eggs into a small bowl. Add the vanilla extract and ground nutmeg. Whisk well.
Dip each bread slice into the egg mixture, coat well and place bread onto the preheated skillet.
Cook the bread 3 minutes on each side.
To assemble:
Place 2 slices of the French toast onto each plate. Top each stack with a large dollop of lemon ricotta and sprinkle the candied pecans over the top.
Top with syrup if desired and serve immediately.
Pin this recipe for later: