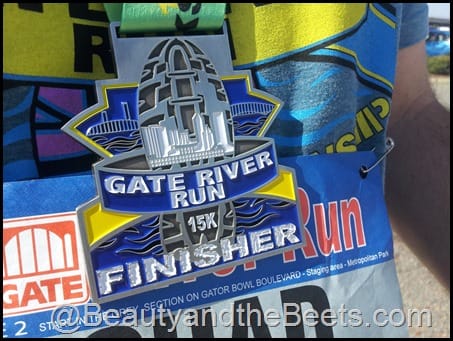 Last weekend Chad and I traveled to Jacksonville for the 2014 Gate River Run, America's largest and most prestigious 15K road race.  This year a new American record was set by the female winner- U.S. Olympian Shalane Flanagan.  Over 15,000 runners gathered to run the USA 15K Championship.  Some runners like Flanagan come to win.  Others, like Chad and I gather to finish.  Just finish.  It's a 9.3 mile race that takes runners over two major bridges in Jacksonville leading out of and back into the city- including the infamous Hart Bridge, better known as the Green Monster to locals.  It's a 141 foot high brutal ending to an otherwise pleasant run.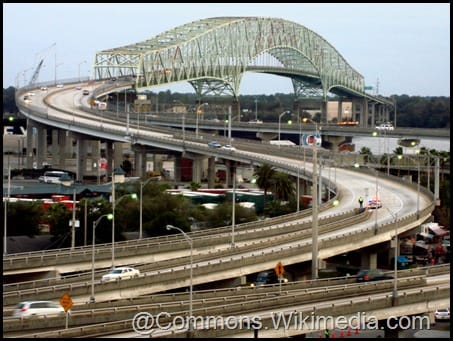 We arrived into town on Friday night and went to the runner's expo where we picked up our race packets and walked through all the merchants offering running gear like these sparkly headbands.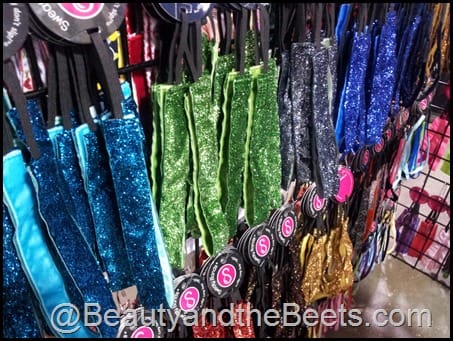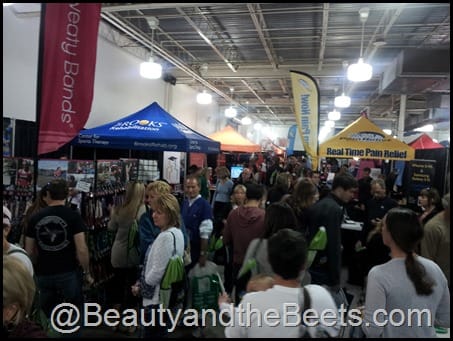 As we lined up for the start- the DJ was blasting "And We Danced" by my favorite band in the whole wode world- The Hooters.  I knew this was going to be a fun race. Runners were divided into four waves- the first wave being the most elite down to the fourth and final wave which consisted of mostly walkers.  Chad was in wave 2, I was placed in wave 3.  Each wave started about 6 minutes apart.  Just look at this photo below I took of my wave walking up to the start- that's A LOT of people and that is just MY wave. If you look at this picture closely you can just barely make out the starting line in the distance.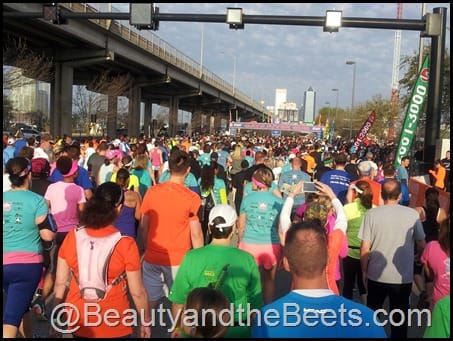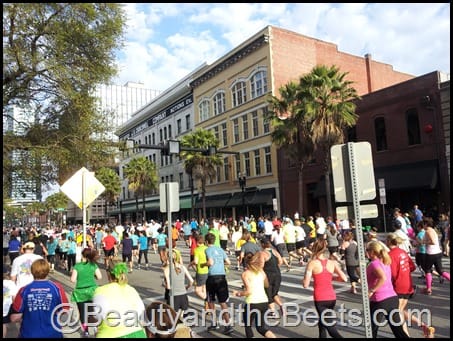 The race started running through the streets of downtown Jacksonville before we were led towards the Main Street Bridge.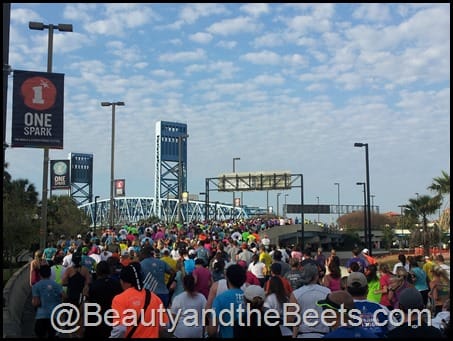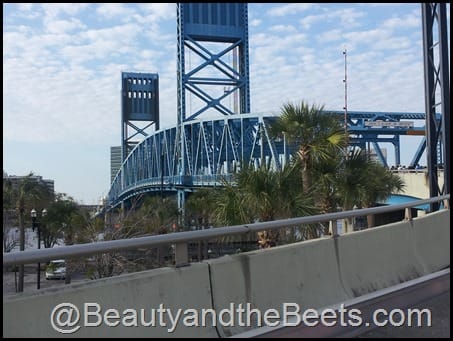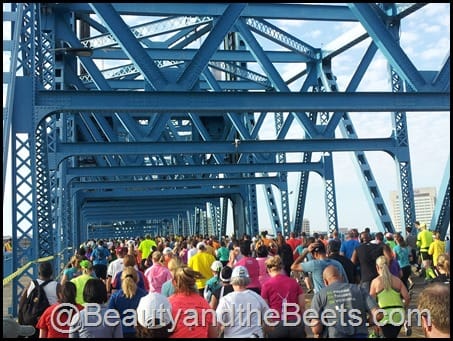 Before I knew it we had crossed the 5K mark where we were treated to some great views of the St. John's River.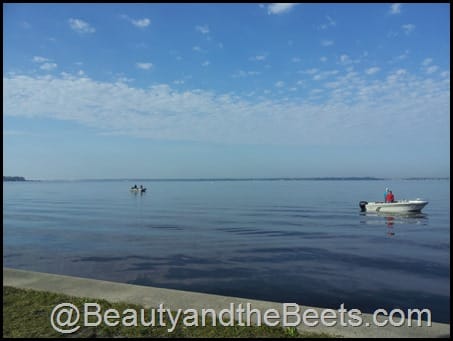 The race winded through some of the residential areas of the city.  There were residents who threw parties in their driveways and front lawns, cheering on the parade of runners.  Many even offered runners treats like jellybeans and cookies.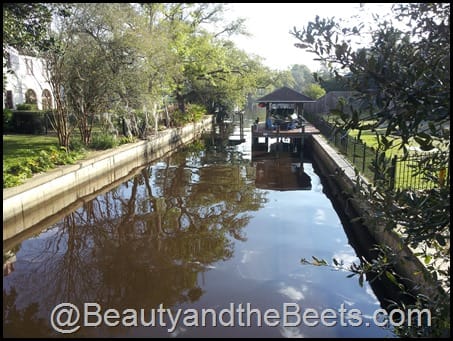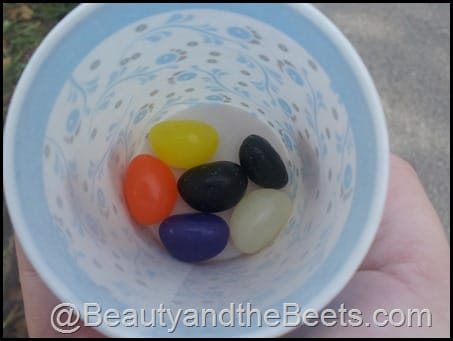 This is a big annual party for the locals.  This was obvious.  I can't tell you how many people were on the race route cheering on the runners while grilling food on the BBQ and manning their kegs at 8am.  I decided it was best to stick to the sponsored water stations when I realized many of the party goers were handing out BEER swigs to the runners!!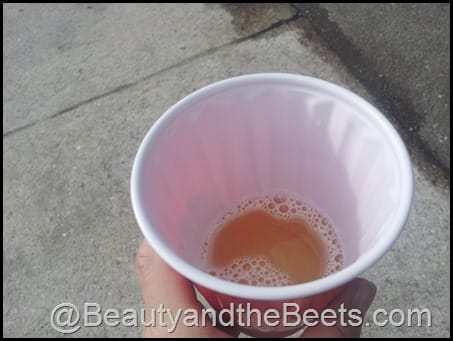 There were lots of water stations which was nice.  We normally see maybe 3 or 4 stations in a half marathon- this race we must've passed by 20.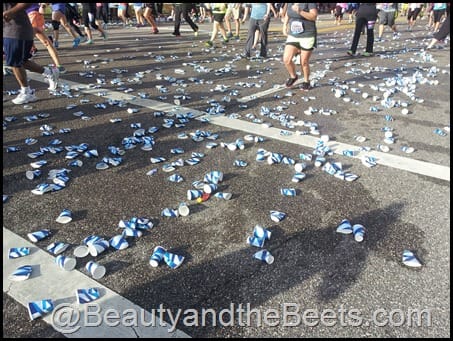 After about the seventh mile we started to approach that feared Green Monster.  The good news is that once you start up the long ramp towards the bridge you know you are nearing the end of the race.  The bad news is that it is a very long and very tall bridge.  The last thing you want to do after running over seven miles is run an almost entire mile up a steep hill.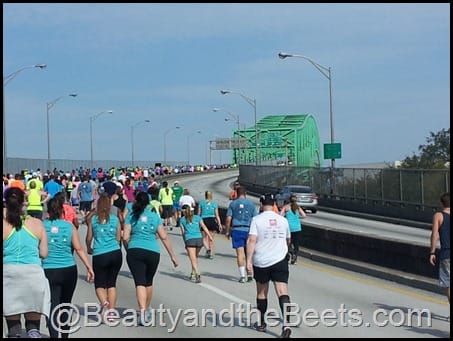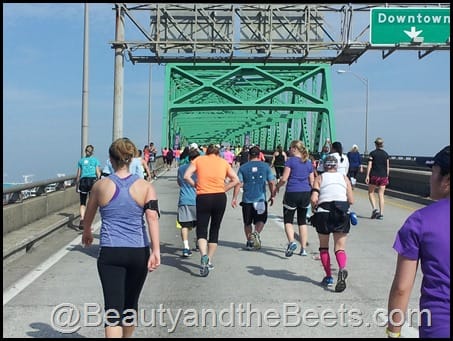 Once we got to the top of that bridge though we had some great views of the city.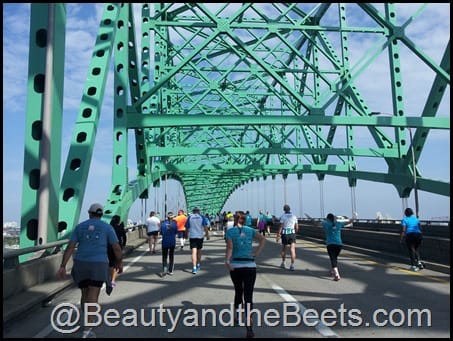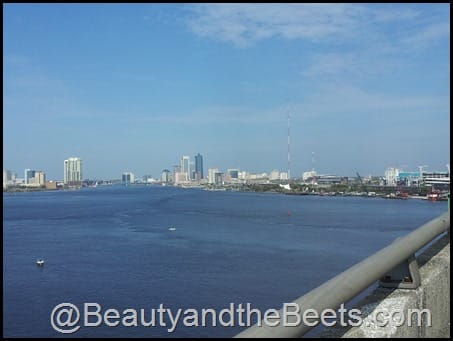 The best news is by the time we reached the 8 mile marker it was all downhill and almost over from there.  Our final destination was Everbank Field, home of the NFL Jacksonville Jaguars.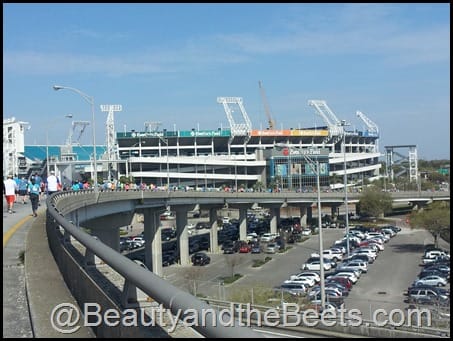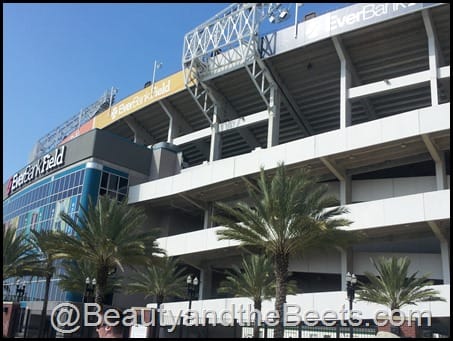 I was so happy to see that finish line.  Chad was done way before me so it was nice to see him cheering me in as I mustered up the last of my strength to cross that finish line.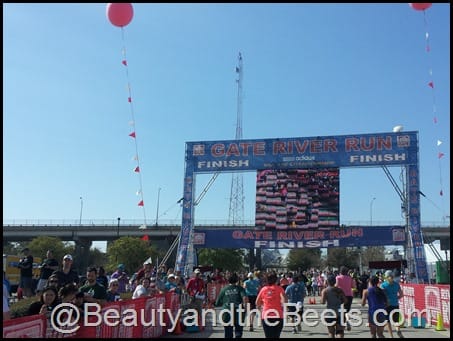 This was my favorite of the three long distance races I have run.  Of course, my other two were half marathons- about 4 miles longer than this Gate River Run.  Maybe that's why I liked it so much.  It wasn't as painful but just as rewarding.  There were so many people that ran this I remained in a big crowd the entire race which to me just makes the race more fun and energetic.  I love doing these group races but I HATE running solo on the treadmill.  Plus, group races like this reward you with bling.  Did you see my medal?