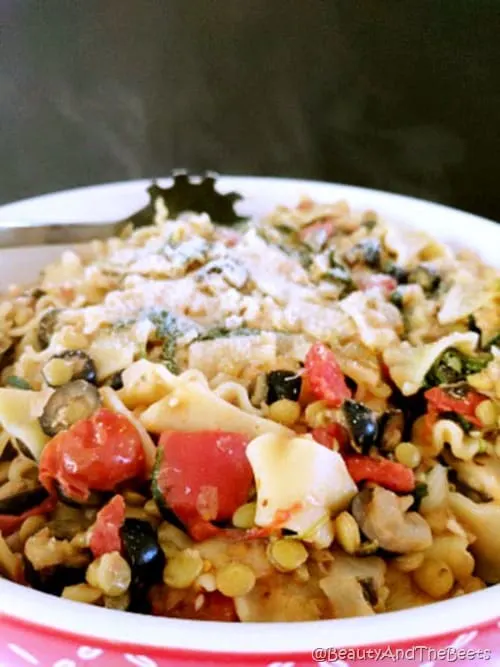 Back in the day, I lived on spaghetti and tomato sauce. Not just any tomato sauce though, I had a brand that I loved (and now shall remain nameless). I only bought this brand. I wouldn't order pasta at Olive Garden because they made their own sauce and didn't serve my brand. Then one day, I started this little blog, this very one you are reading now and I focused on healthy eating. And I began to read labels. And I learned about the insane amount of sugar that goes into jarred and canned pasta sauce. My whole pasta obsession fell apart.
As I began to blog more and create recipes I started learning how to make my own tomato sauce. And I experimented until I made it just how I liked it. I also learned that pasta is really good with toppings other than red sauce. I added vegetables, I added fish and shrimp; but I always found myself just wanting something simple to toss my pasta with.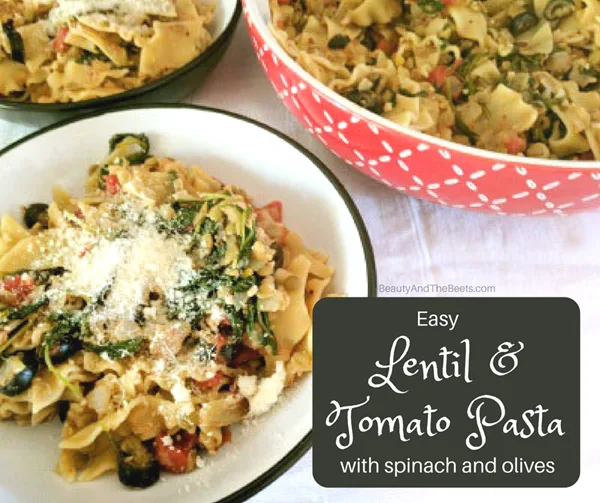 I found myself with a bag of spinach I had intended to use in a salad but never got around to it. So I decided to throw the spinach into a pasta dish. The rest of the ingredients I had on hand in my pasta. Lentil Tomato Pasta.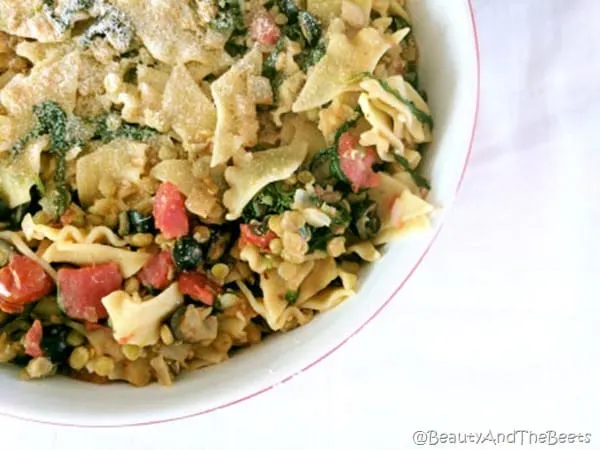 To save time I made the lentils the day before. I buy the easy lentils to cook, the kind that you throw into boiling water for an hour and you're done. I usually make a large batch because I toss lentils into everything from rice to salads and yes, even pasta.
So here I share a very simple idea for dinner. Chickpeas can fill in for lentils, fresh tomatoes can substitute for the canned, and onions can replace the olives. The world of pasta is your oyster or clam…or whatever else you like to put in your noodles. How do you like your pasta?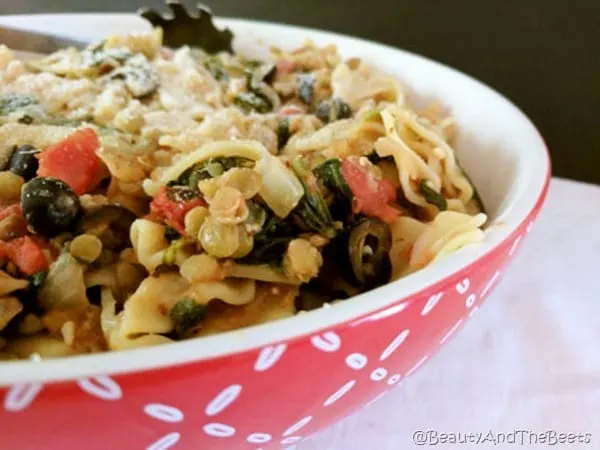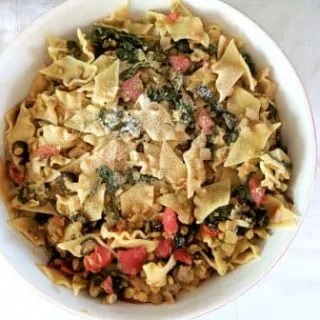 Lentil & Tomato Pasta with Spinach and Olives
Skip the jarred tomato sauce and mix your own ingredients into pasta. Simple.
Ingredients
2 tbsp. olive oil
2-3 cloves garlic,, minced
2 lbs. cooked lentils
1 14.5 oz. can diced tomatoes
1 cup diced black olives
1/2 tsp. salt
1-2 tsp. red pepper flakes
2 cups fresh spinach
1 lb. pasta,, any type
parmesan cheese for garnish
Instructions
Cook the pasta according to package directions.
As the pasta is cooking, heat the olive oil in a large deep sided skillet over medium high heat. Add the garlic and cook until fragrant, about three minutes.
Add the lentils, tomatoes, black olives, salt and red pepper flakes. Stir and let simmer about 5 minutes.
When the pasta is cooked, drain the pasta. Return the pasta to the cooking pot. Add the simmered lentil and tomato mixture to the pasta.
Add the spinach and stir everything together until well mixed.
Serve immediately. Sprinkle with parmesan cheese if desired.
Pin this recipe for later: