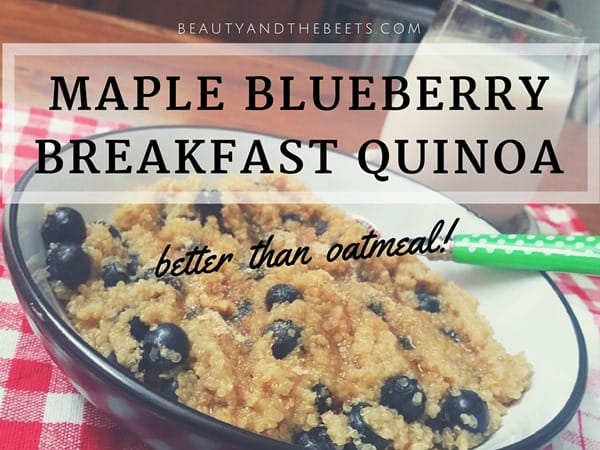 The days are shorter, the nights are colder- sounds like a good time for oatmeal! Gosh- sometimes oatmeal is so….blah. Boring. (I said sometimes) But oatmeal is
so darn healthy! Well this recipe has come just in time, no? Hello Maple Blueberry Breakfast Quinoa!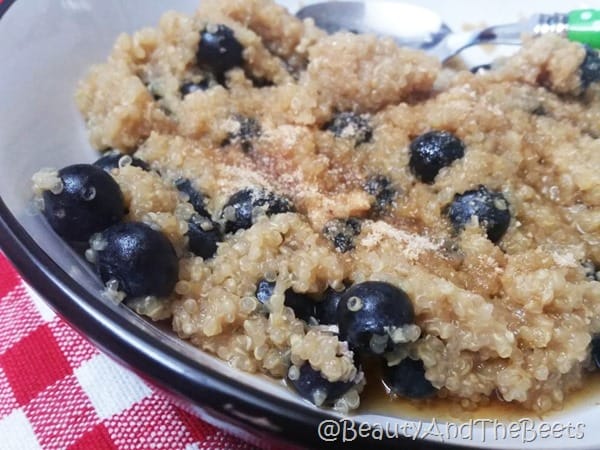 Quinoa is so versatile and I have used it before as a main ingredient in a breakfast dish. (Quinoa Fruit Breakfast Bowl and Quinoa Egg Spinach Bites) I also found it to be a great substitute for oatmeal and like its porridge counterpart, quinoa can be flavored with about anything. We are used to preparing quinoa as a side dish to our chicken and fish meals, right?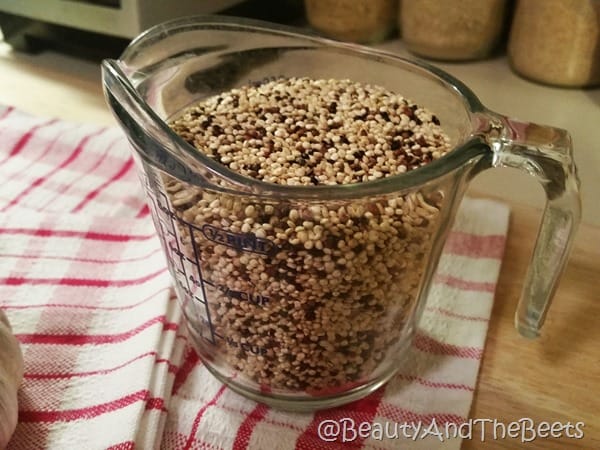 Oatmeal vs. Quinoa
While oatmeal has more vitamin A, calcium and iron; quinoa is higher in potassium, fiber and protein. Both have no cholesterol.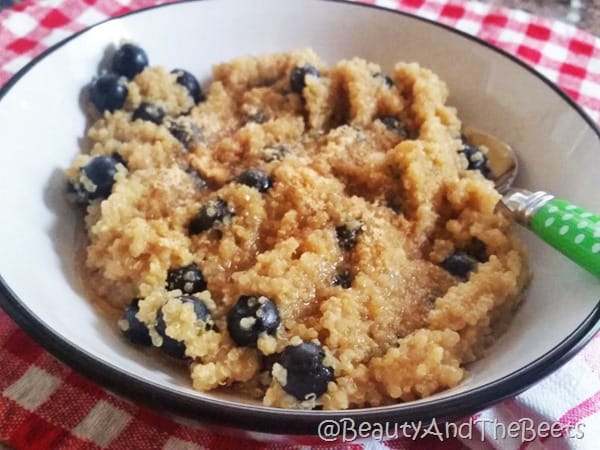 So on this semi-frigid Florida December morning (yes we have those here), I decided to trade in my oats for a healthy and hearty quinoa dish. I cooked the quinoa in cashew milk , then mixed it with pure maple syrup, cinnamon, a pinch of brown sugar and fresh blueberries. I also topped mine with a sprinkle of ground flax seed for that extra nutty nutrition. Wheat germ would work just as well. Easy peasy. I can imagine other variations on breakfast quinoa with baked apple slices and cinnamon sticks, raspberries with lemon zest or the always popular chocolate chips with pecans. Today I had blueberries in my fridge so that's what I used. I hope you enjoy…and stay warm!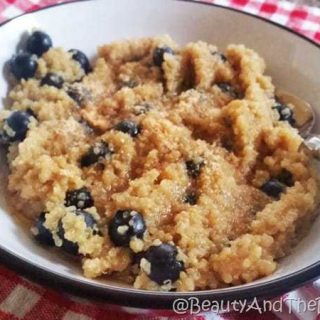 Maple Blueberry Breakfast Quinoa
Ingredients
1 cup quinoa,, rinsed with cold water through a fine strainer to remove the bitterness
2 cups non-dairy milk
1 pinch salt
1/2 tbsp ground cinnamon
2 tbsp packed brown sugar
1 cup fresh blueberries,, rinsed
flax seed,, optional
Instructions
Heat the milk over medium-high heat for 2-3 minutes unitl milk is warmed through. Add the salt and quinoa and stir.
Simmer over medium heat for 15-20 mins. until the quinoa has absorbed the milk. Remove from heat.
Add the maple syrup, cinnamon and brown sugar into the quina mix and blend well. Slowly fold the blueberries into the quinoa and divide among 4 bowls.
Sprinkle with flax seed, if using and serve immediately.