The Midnight Mint Mocha Frappuccino copycat recipe is easy to recreate at home and will save you money and time waiting in line!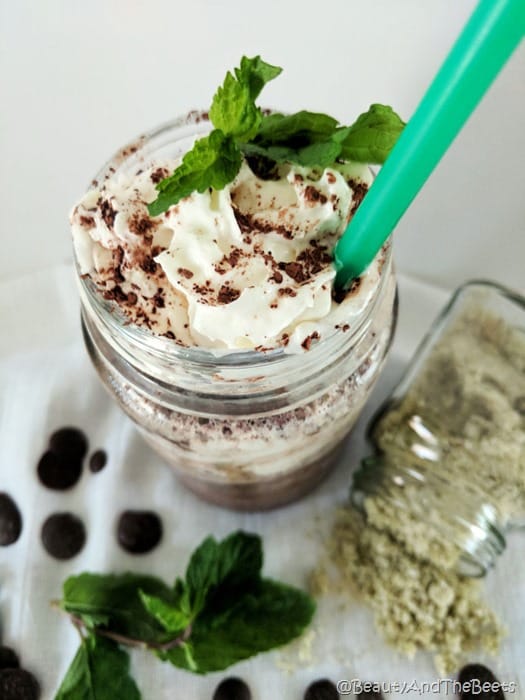 I am at it again. I am stalking Starbucks. I am convinced I was the owner of Starbucks in another life. Is that possible?
Now don't get me wrong. Yes, I have the Starbucks app on my phone so I can preorder and not wait in line, and yes, I drink enough Starbucks throughout the year to qualify for free drinks. However, I really only drink about one Starbucks drink a week. This is not one of those places where everybody knows my name, and not everybody is glad I came. Well, wait, would people really not be glad I went to Starbucks? (for you youngens- I am referencing the theme song from "Cheers") (for you even younger-ens – "Cheers" was a popular TV show back in the eighties).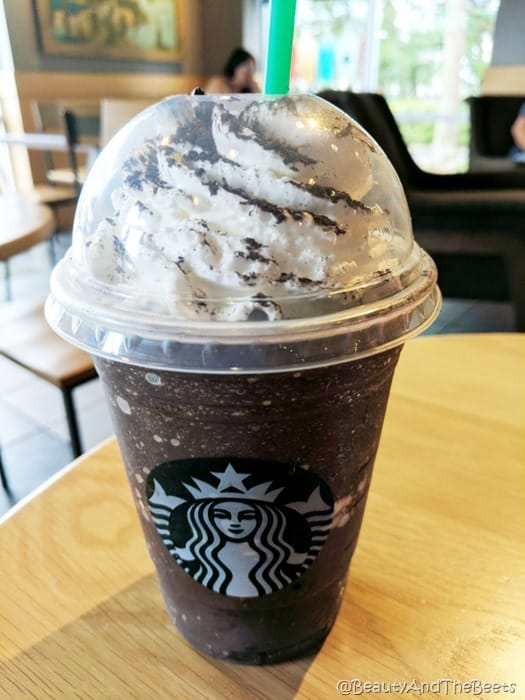 Anyway, back in May, Starbucks rolled out their summer Frappuccino menu. Along with the already popular and familiar S'Mores Frappuccino, Starbucks introduced the Midnight Mint Mocha Frappuccino. Dark chocolate is all the rage right now. Dark chocolate is proven to be a powerful source of anti-oxidants.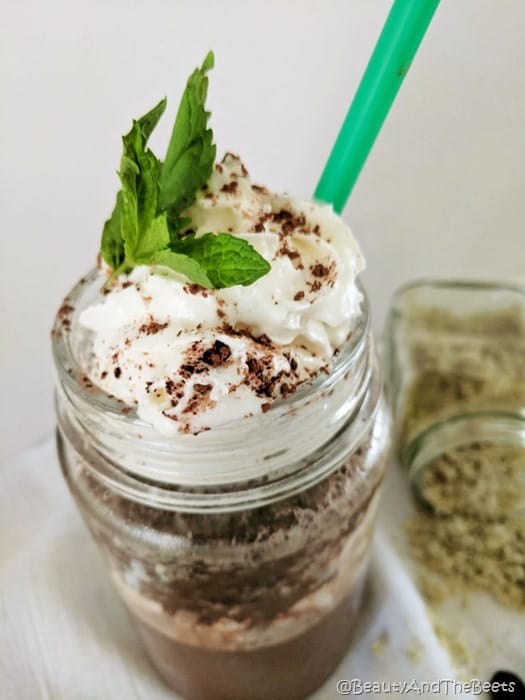 Now, my version of the Midnight Mint Mocha Frappuccino (or the Starbucks version) is not proven to lower blood pressure, lower the risk of cardiovascular disease, or have any of the superpowers enhanced by consuming dark chocolate. Only by choosing the high quality, organic stuff with at least 70% cocoa content can deliver you superpowers of such. And I have to qualify that I am not a Doctor, so I cannot prescribe dark chocolate to heal your ailing woes (though that would make me quite popular, right?) I can only offer you this recipe and two cents worth of knowledge.
I am told that Starbucks uses dark cocoa powder in their version. I, however, did quite a bit of research on the existence of dark cocoa powder. I learned it really isn't a thing. But there are different versions of cocoa powder. And because I am not baking with it in this recipe, whether you use Dutch-process cocoa powder or natural cocoa powder does not change this recipe at all. (Here is a breakdown of Dutch-process versus natural cocoa powder from Sally's Baking Addiction).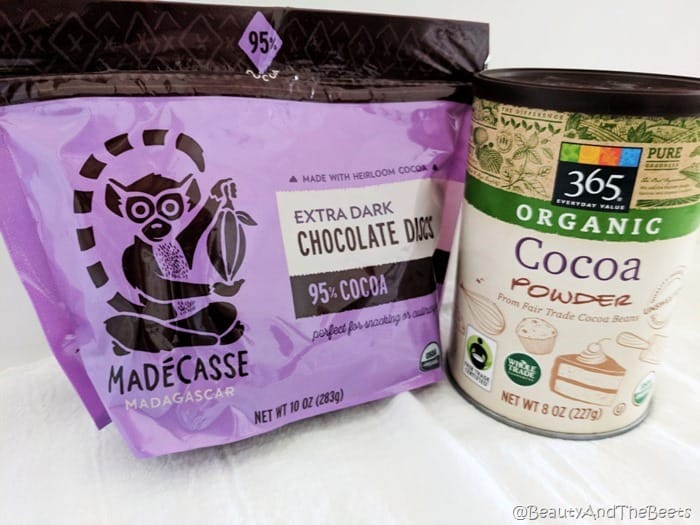 I used 1 tablespoon of regular cocoa powder, but I also added a few dark chocolate discs to make the drink even richer. I bought my dark chocolate discs from Whole Foods, however, there are quite a few options on Amazon. I used 95% cocoa, and my drink was a little more bitter than I would probably like, but it was very close to the Starbucks version. Whichever type of chocolate you use, make sure to use one with a cocoa content of 70% or higher to get the taste as authentic as possible.
Then there is the mint sugar. Starbucks uses mint sugar crystals in their Midnight Mint Mocha Frappuccino as opposed to using a mint sugar syrup. The mint sugar is super easy to make – just pulse fresh mint leaves with sugar in a food processor. I ended up using the mint sugar in iced tea and lemonade as well.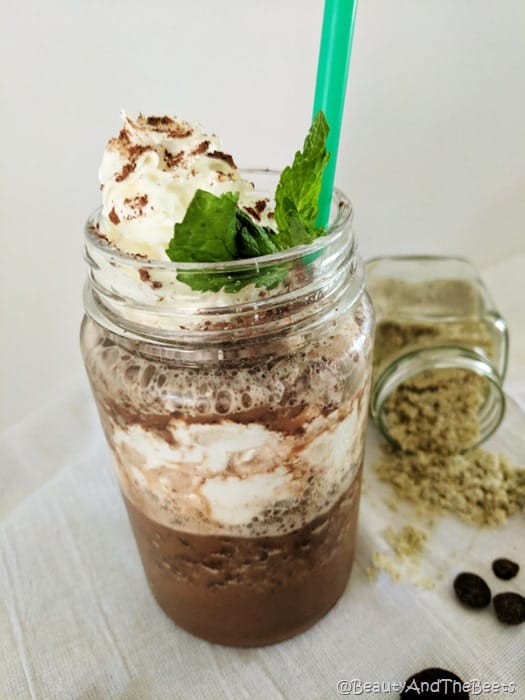 One thing I did find inconsistent among the Starbucks stores is the way this Frappuccino is served. In one store, the Midnight Mint Mocha Frappuccino was topped with whipped cream; in another store the drink was layered with whipped cream. Either way you choose will be authentic I guess.
And that's all I have here on this Monday. Enjoy this recipe for the Starbucks Midnight Mint Mocha Frappuccino copycat. Hope everyone has a great week and Happy Frappin'!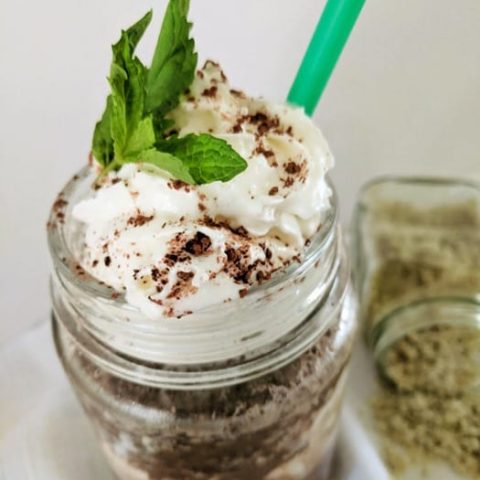 Starbucks Midnight Mint Mocha Frappuccino copycat recipe
Another copycat recipe from Beauty and the Beets. The Starbucks Midnight Mint Mocha Frappuccino copycat recipe.
Ingredients
for the Midnight Mint Mocha Frappuccino:
1 cup whole milk, nut milk works well also
1 cup brewed coffee
1 tablespoon cocoa powder
1 cup ice
whipped cream, for garnish
cocoa powder, for garnish
1/2 cup fresh mint leaves,, loosely packed
3/4 cup white sugar,, Stevia or coconut palm sugar work as well
Instructions
Add the milk, coffee, cocoa powder, dark chocolate, mint sugar, and ice into a blender.
Blend until drink is mixed well.
Pour into a serving glass. ***
Garnish with whipped cream and a sprinkle of cocoa powder.
Serve immediately.
Notes
**if opting not to use dark chocolate, add one tbsp. of the cocoa powder in its place. A total of 2 tbsp. cocoa powder should be used.
***The proper way to serve the Starbucks Midnight Mint Mocha Frappuccino varies from store to store apparently. If you choose to layer the whipping cream, fill only half the serving glass with the Frappuccino and add a thin layer of whipping cream on top. Then fill the rest of the glass up with the Frappuccino, add more whipped cream and garnish with cocoa powder.
**This post contains affiliate links. I only link to products that I use myself and believe in. Your support is greatly appreciated.**