A green pea and spinach veggie burger is a hearty and tasty way to incorporate green vegetables into any diet.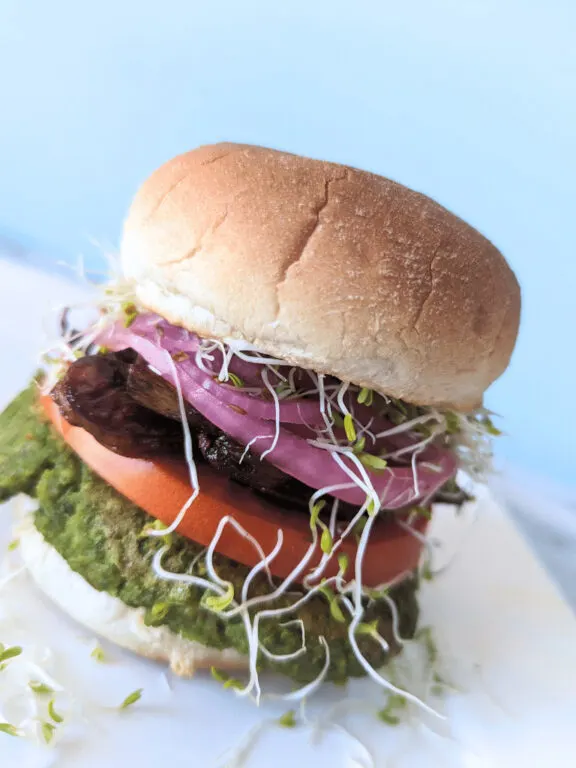 This green pea and spinach veggie burger is one of my favorite recipes. Veggie burgers in general have become my new obsession. I am constantly seeking out great house-made veggie burgers around town and shun my nose at places that charge $20 for a frozen mass market patty. It's highway robbery in my opinion.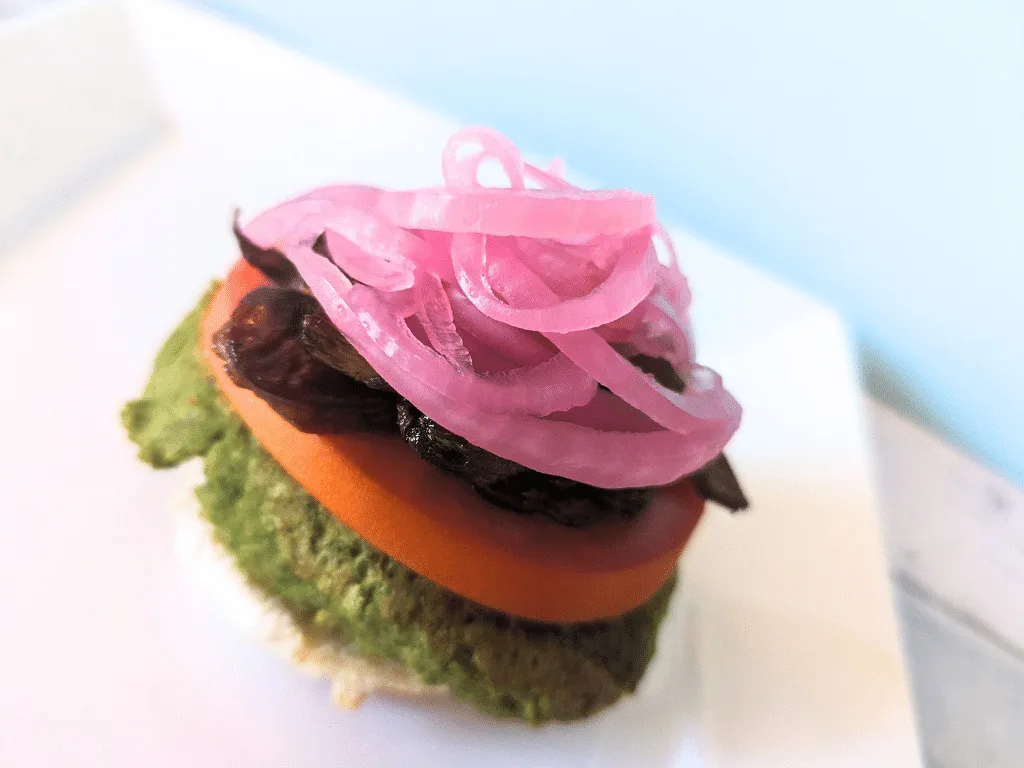 This veggie burger bakes up nicely in the oven with minimal hands on time. This leaves you time to whip up some mushroom bacon or pickled onions as a garnish. I also love broccoli sprouts and the rosemary mayo that accompanies this mushroom quinoa veggie burger as flavorful additions to the green vegetables in this recipe.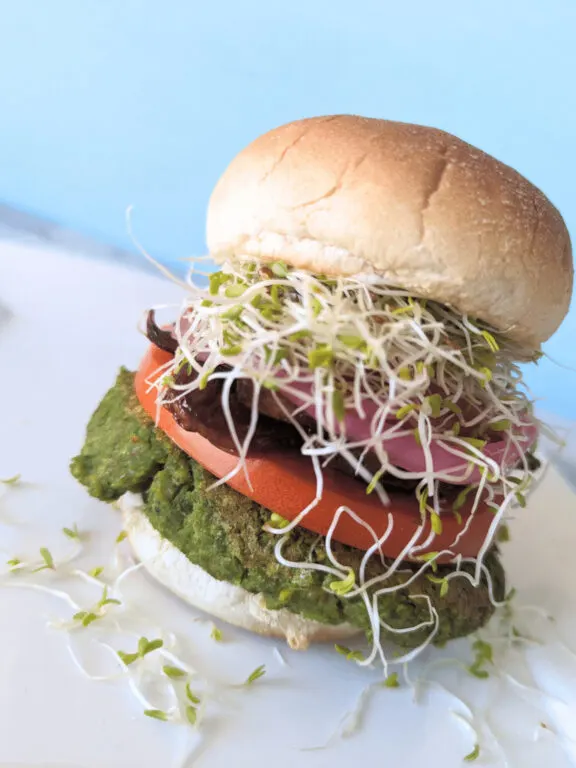 The beauty of veggie burgers is how incredibly versatile recipes can be. You could easily incorporate ground nuts, flax, or hemp seed into this recipe for extra nutrition and even more flavor. You could substitute kidney or chickpeas for the green peas, though that would change the beautiful vibrant green color of this spinach veggie burger.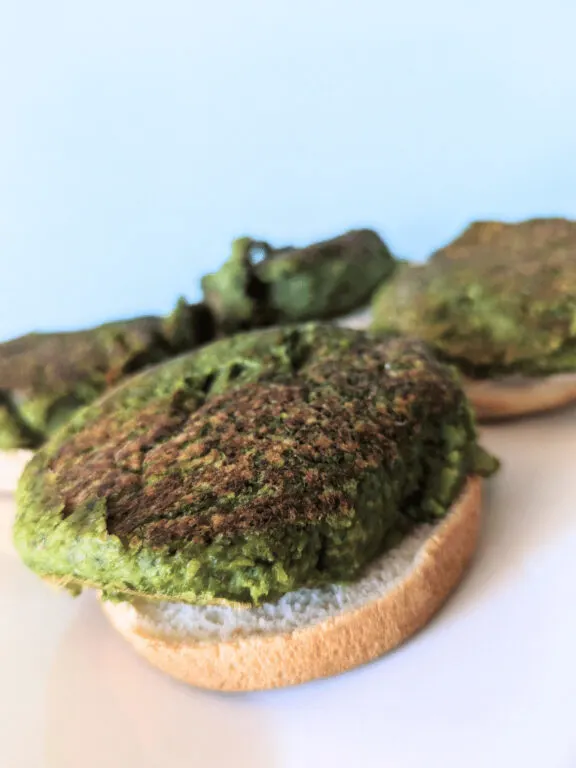 To make this a Vegan veggie burger, use either a store bought egg substitute, a 1/4 cup of pumpkin puree, or a 1/4 cup of applesauce. While the latter two will make the burger a little bit sweeter, the burger will still be delicious. Especially with the pickled onions and broccoli sprout garnish.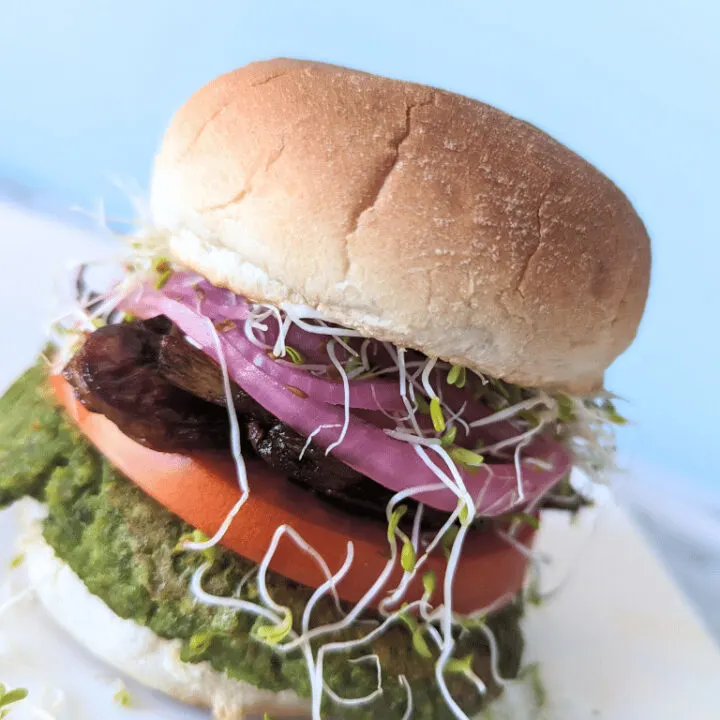 Green Pea and Spinach Veggie Burger
Green pea and spinach veggie burgers are a wonderful way to incorporate green vegetables into the pickiest of eaters.
Ingredients
1 cup frozen green peas
1 small onion, chopped
1 cup packed fresh spinach
1 cup canned lentils, rinsed and drained
1 egg, whisked
1/2 cup breadcrumbs
1 tablespoon fresh parsley
2 teaspoons garlic, minced
optional toppings:
Instructions
Add the peas to boiling water for a few minutes, then drain and add to the bowl of a food processor.
To the peas, add the onion, spinach, lentils, egg, breadcrumbs, parsely, and garlic.
Pulse until burger mixture is well combined.
Form burger patties and place on a parchment lined baking sheet. Place in the freezer for 15 minutes.
Preheat the oven to 350°
Bake the burgers for 30 minutes, flipping halfway through.
Top with the pickled onions and mushroom bacon if desired.
Making veggie burgers at home is a great way to experiment with different ingredients like veggies, beans, nuts, and seeds. The possibilities of flavors and combinations are endless. The patties can also be cooked up and served as a main entree without the bun and topped with a variety of sauces and toppings. Either way, experiment with your burgers and have fun!