There is nothing more refreshing on a hot summer day than fresh homemade lemonade. This blueberry lemonade will be an instant hit for your next barbeque.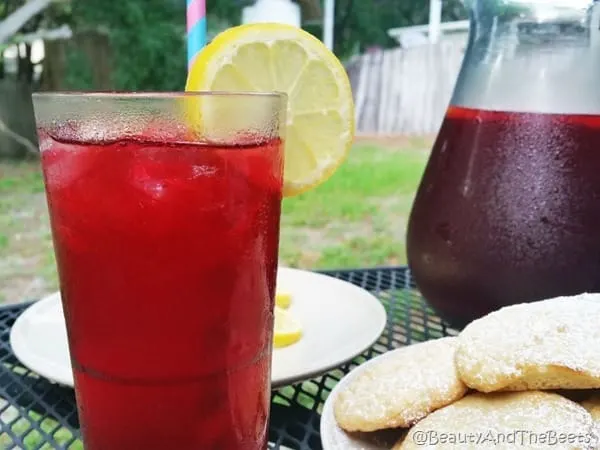 Even growing up in Northern Virginia, summers were always hot and humid. We picnicked a lot as a family growing up – lots of good food and ice cold lemonade. Of course those were the days of Kool-Aid and Minute Maid drink mixes, those were the days before we knew how horribly bad these processed sugary drink mixes were for us. Those were the late 1970's. The days when hot dogs were considered a health food and mac and cheese from a blue box were the norm (who am I kidding? Blue box mac and cheese is still da bomb). Kale? Quinoa? Did we even know what those were back then?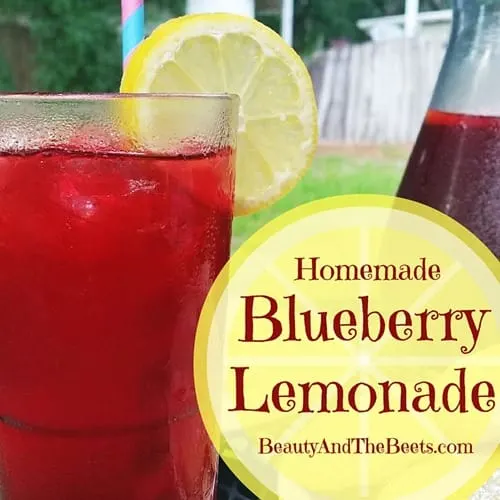 Refreshing, tart and sweet. Perfect for sitting outside, enjoying the hot summer weather and reading a book. With lemon sugar cookies to boot. Whoa. Sitting outside until the daily Florida summer thunderstorm hits.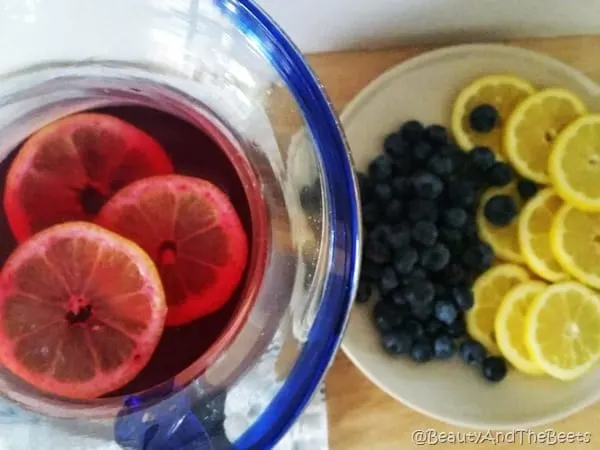 For me, the best way to make flavored lemonade is to add the fruit to the water and sugar when making the simple syrup. While I chose blueberry, there are endless options of fruit you could use. Watermelon, strawberry, blackberry, whatever fruit you can find in season. It just so happens we are in blueberry season at the moment.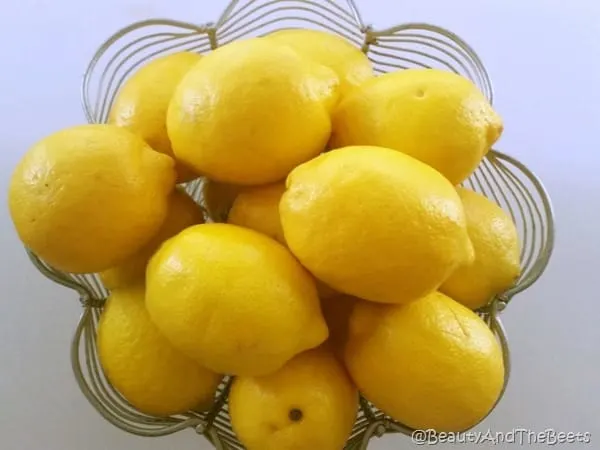 I always seem to have a basket full of lemons in my house, especially in the summer. Lemons are so fresh. It is easy enough to buy bottled lemon juice to make the lemonade but I personally think you can really taste the freshness from using real lemons. And juicing lemons can be a task you pass along to a child, right? I used the juice of ten lemons, equivalent to 1 1/2 cups of real lemon juice.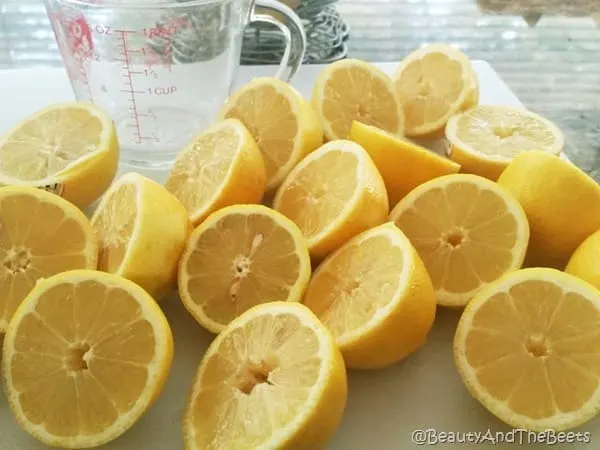 I also stress the importance of using filtered water, as tap water can taint the fresh flavor of an authentic lemonade. Most tap water has some type of an aftertaste, though it really depends on what part of the country you live in. I personally do not like the taste of our tap water in Central Florida. Just my opinion.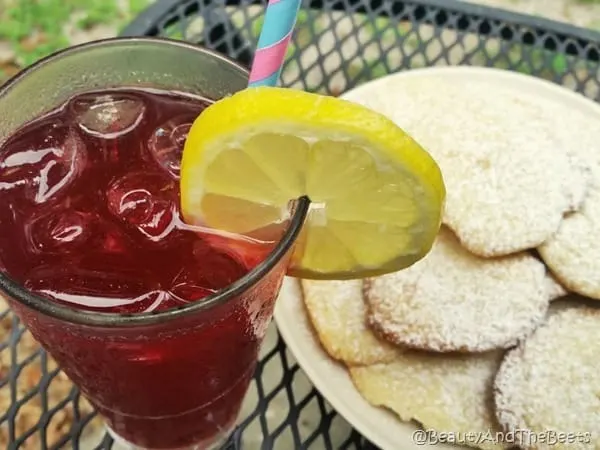 And of course a big plate of lemon sugar cookies make having a glass of blueberry lemonade an event. Snack time isn't so average anymore.
Tangy Tarragon Lemonade recipe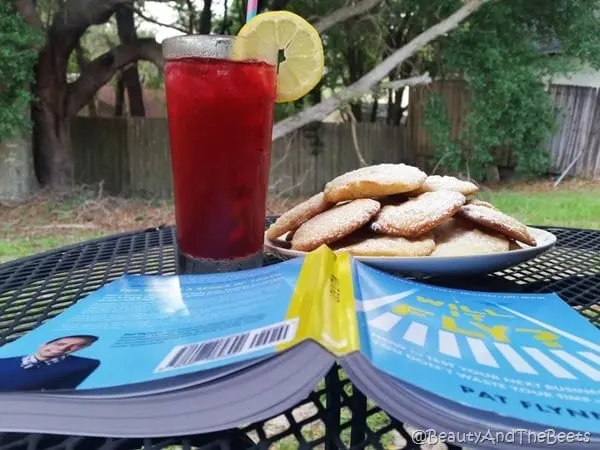 So cheers! I hope you enjoy the recipe. I am going to head outside, read my book and enjoy the heat before the summer rain hits. Then it will be time for a nap. Ah, summer.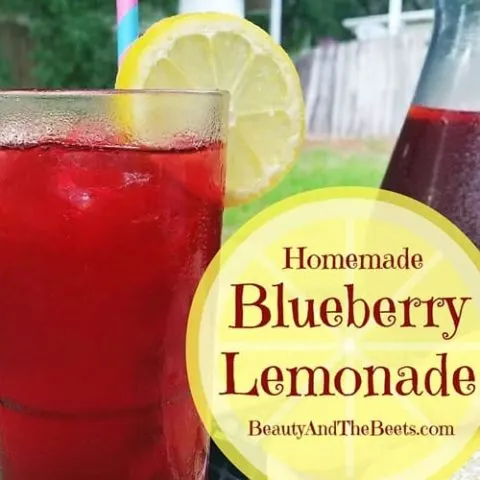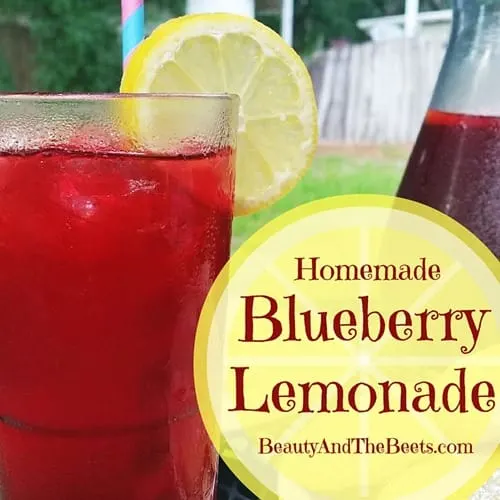 Refreshing Homemade Blueberry Lemonade
Yield:
10 cups (a little over 1/2 gallon)
There is nothing more refreshing on a hot summer day than fresh homemade lemonade. This blueberry lemonade will be an instant hit for your next barbeque.
Ingredients
For the lemonade:
1 1/2 cups blueberry simple syrup, *see recipe below
10 lemons, juiced - yield 1-1/2 cups
7 cups cold filtered water
lemon slices, blueberries, optional for garnish
For the blueberry simple syrup:
1 1/2 cup filtered water
1 1/2 cup sugar
1 pint blueberries, stemmed and washed
Zest of 2 lemons
Instructions
To make the blueberry simple syrup:
Add the sugar and filtered water to a saucepan over medium heat. Stir until the sugar dissolves, about three minutes.
Add the blueberries and lemon zest to the simple syrup and bring to a boil. Lower the heat to low and simmer for about ten minutes, stirring occasionally.
Pour the blueberry mixture through a fine mesh strainer, catching the liquid in a bowl. Gently press the blueberries into the strainer until all the liquid is in the bowl.
Reserve the blueberry syrup for the lemonade. The remaining blueberry pulp can be saved for topping on waffles or mixed into muffin batter.
For the lemonade:
Add 1 1/2 cups blueberry syrup, 1 1/2 cups lemon juice and 7 cups cold filtered water to a large pitcher and gently stir.
Add lemon slices and/or blueberries for garnish. Serve immediately over ice or keep in the fridge until ready to use.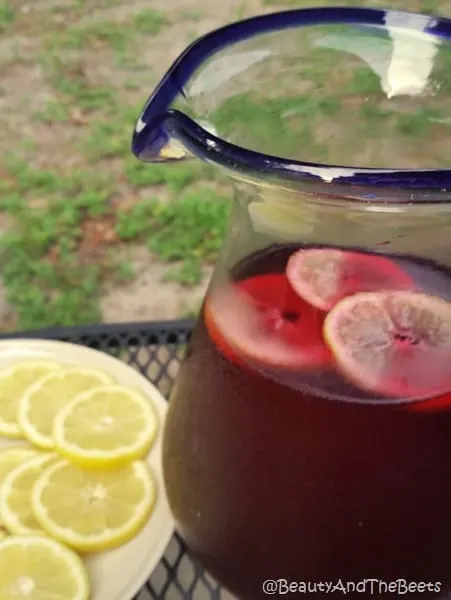 Pin this recipe for later: