Use your favorite fruit jam and cream cheese to elevate ordinary French Toast into Stuffed French Toast- a delicious way to start the day.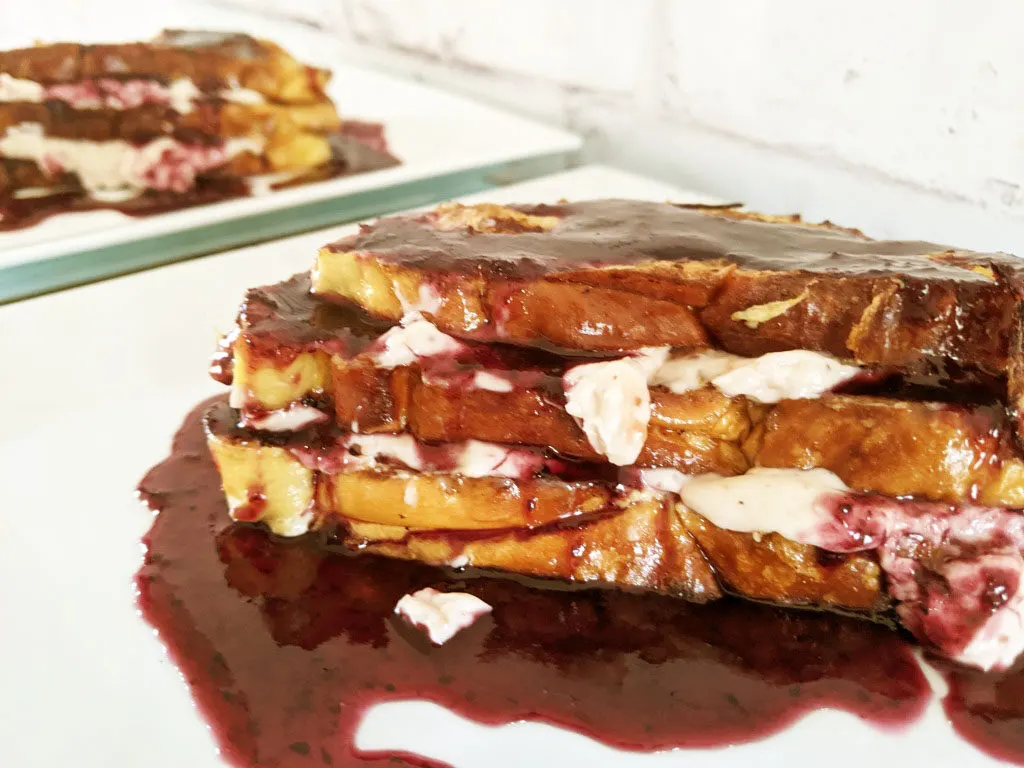 Mr. Beet is predictable. We go out to breakfast every weekend and every weekend he orders the same thing – French Toast and side of breakfast potatoes. Occasionally he may switch it up and order pancakes. The only exception is when we go to a place like Waffle House where he will get an egg and cheese biscuit with a side of scattered, smothered, and covered hashbrowns.
Now don't get me wrong. I love French Toast too. But sometimes I need a little oopmh. Something more than just a plate of griddled cinnamon bread.
Check out this recipe for Cream Cheese and Fruit Stuffed French Toast. Only it's not really stuffed. It's more layered. It makes everything so much easier.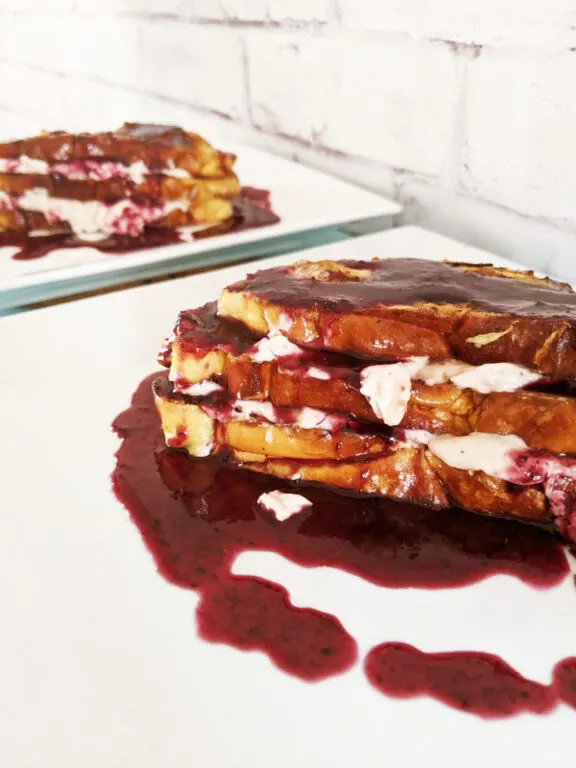 One of my favorite weekend activites is visiting one of the many local Farmer's markets we have here in the Orlando area. I always pick up fresh veggies and pasta, along with some type of homemade jam.
What's the difference between jelly and jam? Jelly is made from fruit juices and sugar with added pectin or gelatin to thicken it, while jam is made with whole fruit and sugar. Jam is considered to be Vegetarian friendly, while jelly is not because of the gelatin (although jelly made from pectin without the gelatin is Vegetarian friendly).
While blackberry and strawberry jams are among my favorites, this recipe works well with grape, blueberry, or apricot jam.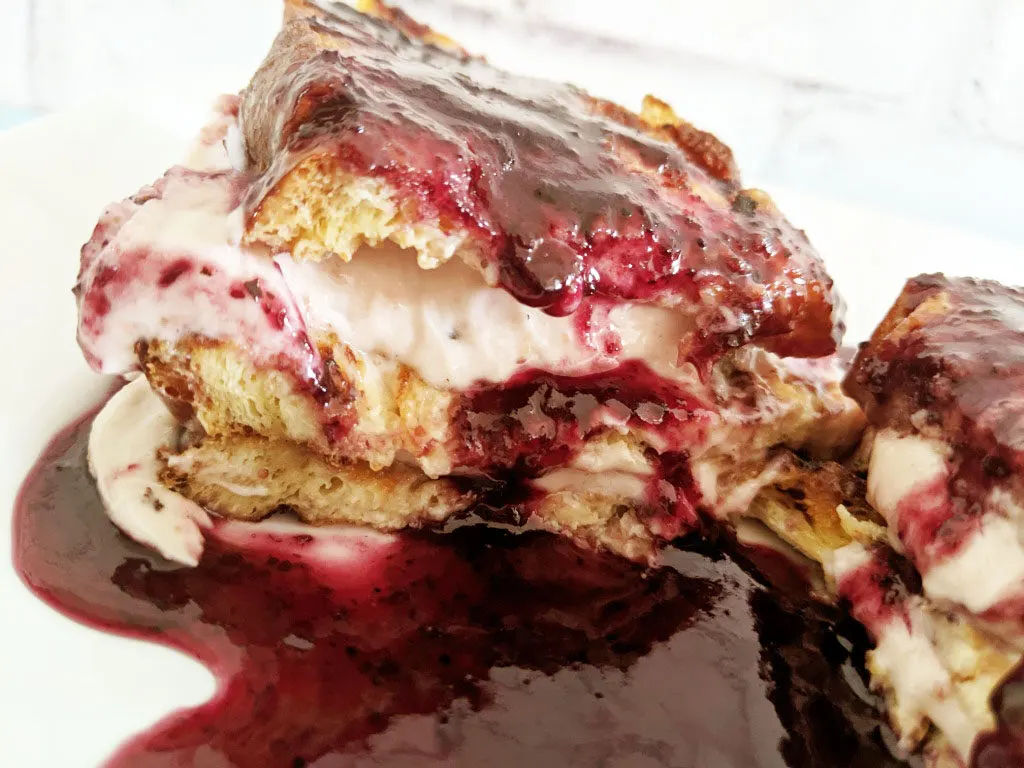 Stuffed French Toast also works best with thicker bread. I prefer Challah or thick sliced sourdough. You want bread that will hold up to the cream cheese and syrup.
I also prefer using a strawberry or blackberry flavored syrup, just to enhance the fruity flavor, but a pure maple syrup would also be delicious.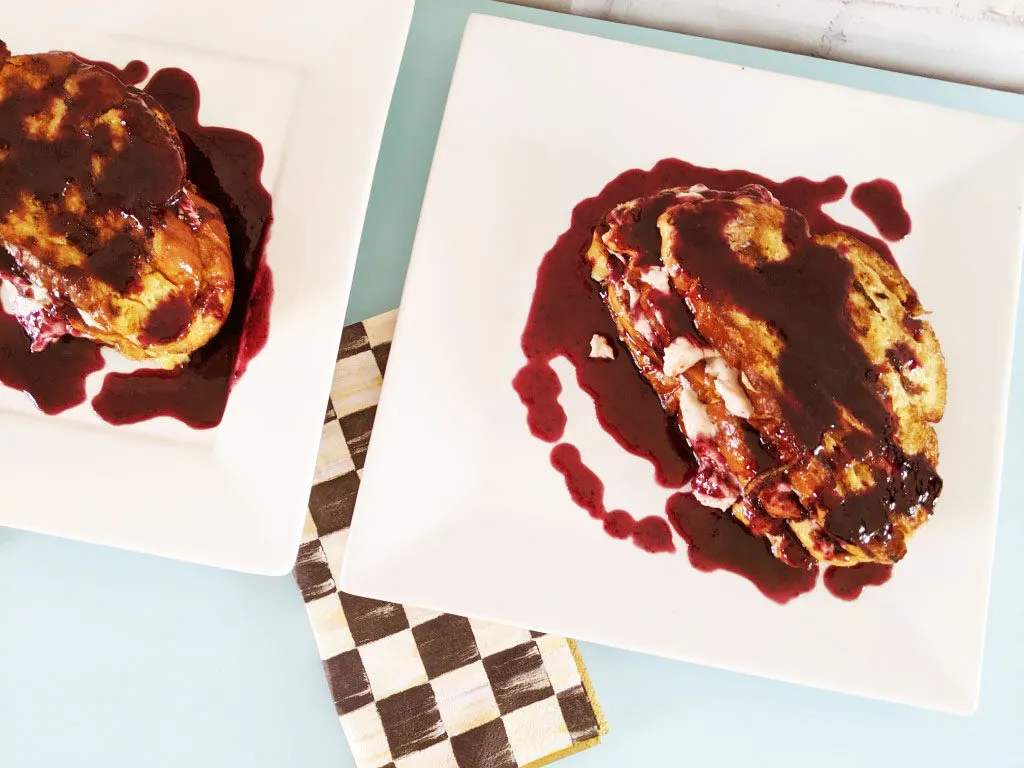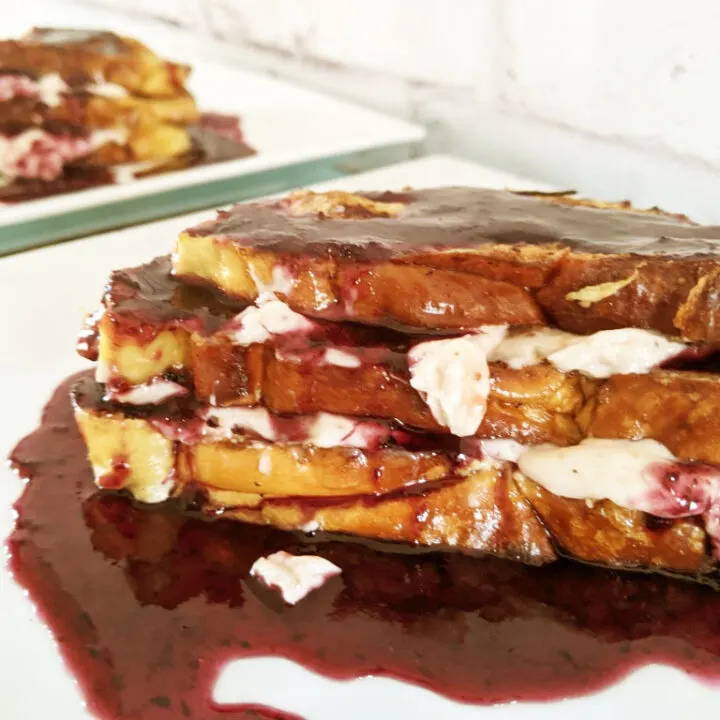 Cream Cheese & Fruit Stuffed French Toast
Use your favorite fruit jam and cream cheese to elevate ordinary French Toast into Stuffed French Toast- a delicious way to start the day.
Ingredients
8-ounce package cream cheese, at room temperature
1/2 cup fruit jam
1 loaf Challah or Sourdough, cut into 1/2" inch slices, (you will need 12 slices for 4 triple decker servings)
4 large eggs
1 cup milk
1/3 cup packed light brown sugar
1/2 teaspoon pure vanila extract
4-6 tablespoons unsalted butter, divided
maple syrup for serving
Instructions
Preheat a cast-iron griddle or skillet over medium heat and preheat oven to 250°F.
Add cream cheese and jam to a food processor and process until well blended.
Add the eggs, milk, brown sugar, and vanilaa extract to a baking dish and whisk until well combined.
Melt 2 tablespoons of the butter in the preheated skillet.
Dip the slices of bread into the egg mixture and turn over, fully coating both sides. (this will be donw in batches)
Place the coated bread in the skillet and cook 4-5 minutes per side until golden brown.
Place the cooked French toast on a baking sheet and cover loosely with aluminum foil. Place in the oven to keep wrm until all the bread slices are cooked.
Coat and cook the remaining bread until all the bread is cooked. (You will have to add more butter to the skillet in between batches)
Place one slice of bread on each of the four serving dishes. Spread 3-4 tablespoons of the jam cream cheese mixture on each of the bread slices.
Top each bread/cream cheese with another slice of the bread. Spread another 3-4 tablespoons on each of the bread slices.
Top the French toast with the remaining bread and serve immediately with the maple syrup.