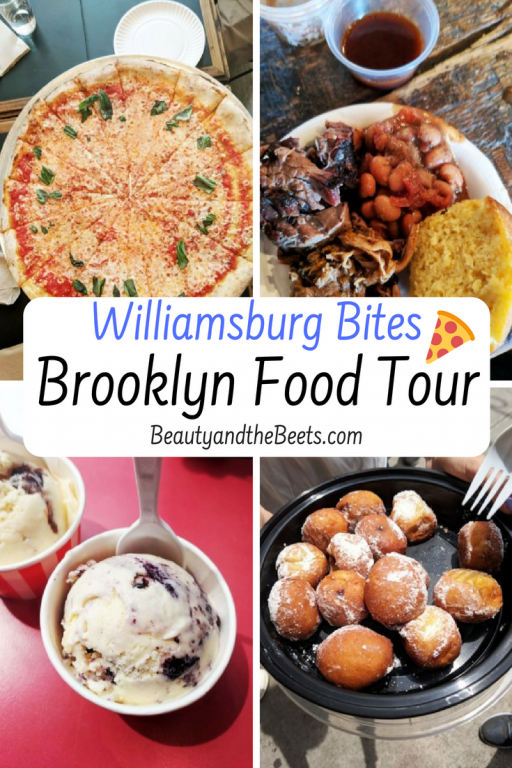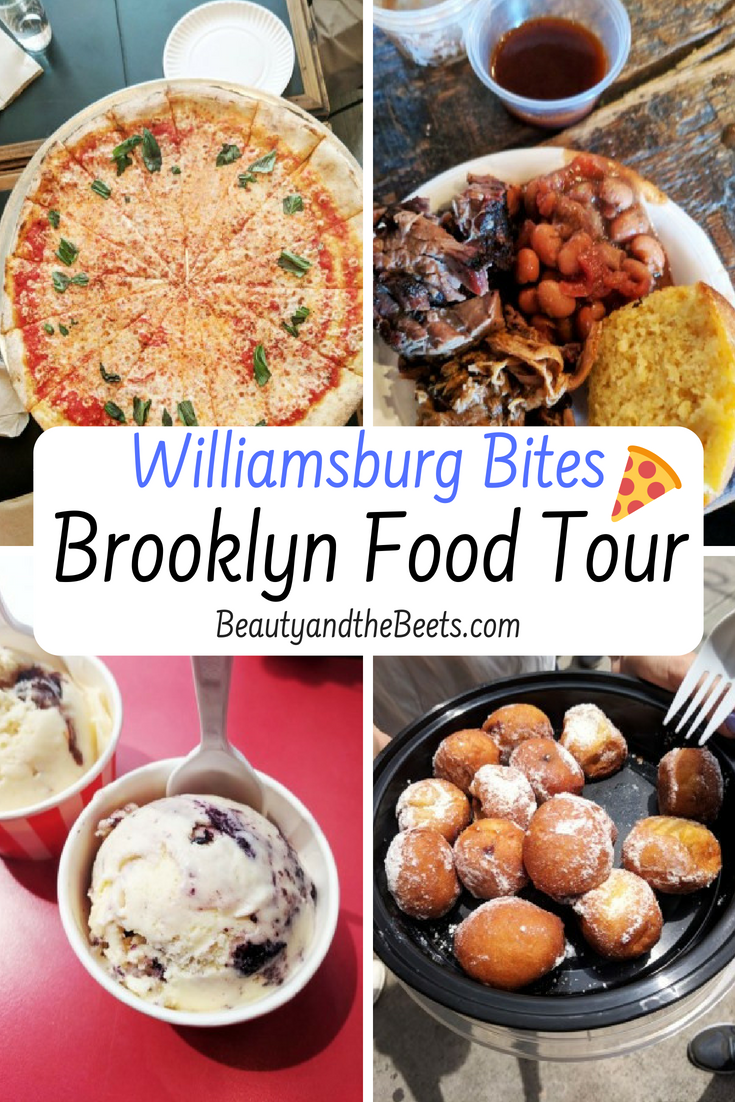 I used to live in New York City – Queens to be more specific. I had an apartment in Rockaway Beach while I was a Flight Attendant for Delta and I would spend my days sitting on the beach, waiting for crew scheduling to call. Sometimes I would be sent off to Switzerland where I would enjoy authentic cheese fondue, or maybe Memphis was on the agenda and my first stop was always BBQ at Rum Boogies. However, when I was home in New York City, I rarely took the time to explore and savor those foods that made the city what it was – a melting pot of all nationalities and cuisines. I don't know why. There are so many foods to try for the first time, so many places with old favorites, and a handful places I am not sure I could stomach. I just didn't.
For the past decade, I visit the city several times a year and have been making up for lost time. But one thing I have never done in New York is a food tour. Again, I don't know why. I tend to take a food tour in every other city I visit, but never New York. But now I am a NYC food tour virgin no more. I recently signed up for a food tour in Brooklyn. A tour called Williamsburg Bites: A Brooklyn Foodie Adventure. The cost of the tour was only $50, which is cheaper than most any other tour I have taken in any other city (and they New York City is the most expensive!) And honestly, for that lower price, I was expecting a mediocre tour with limited samples and not a lot of personality. And I was wrong.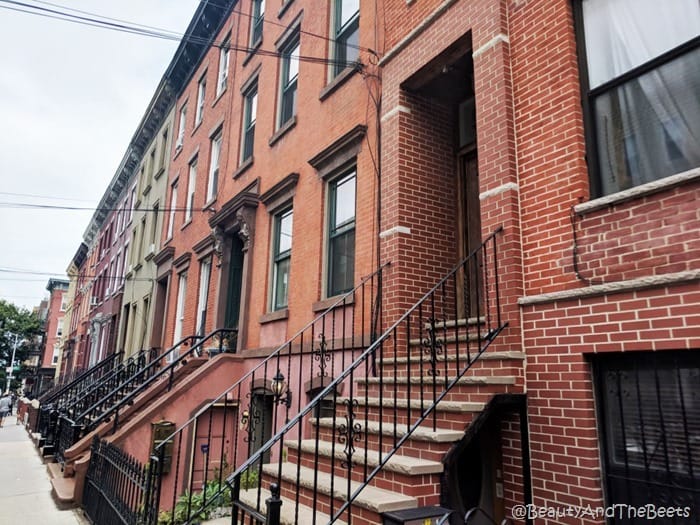 Three hours and two miles later we were filled to the brim with some amazing goodies.
Kate, our tour guide, was an authentic British/Australian New York City transplant with a friendly and funny personality. I could have enjoyed her hospitality and stories all day (and they say New Yorkers are so mean!) She kept us on time, in line, and entertained. We had a full tour of 15 people, and though I thought that was a lot of people, it really wasn't in the way the tour was organized. I've been on tours with only 8 people and it seemed a bit chaotic, but Kate had all 15 of us under control.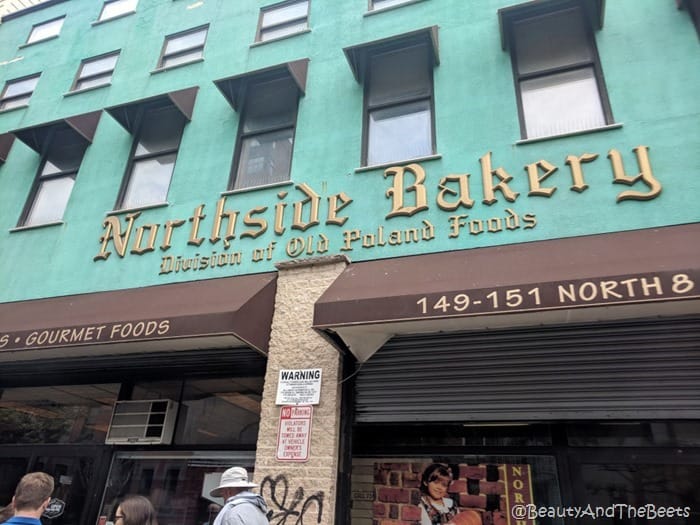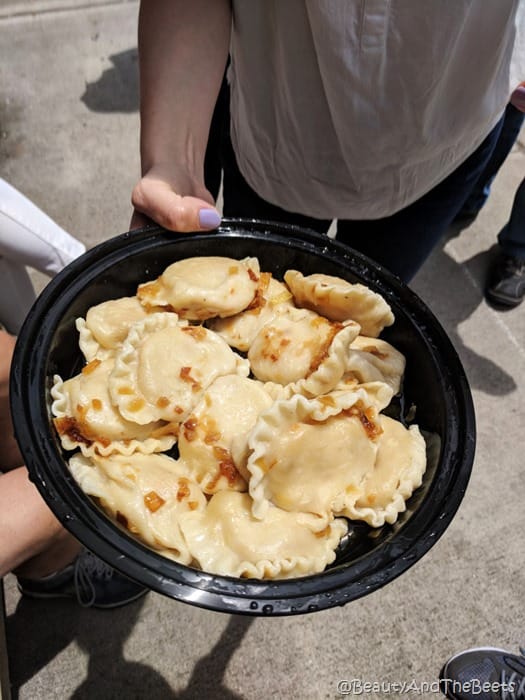 Our very first stop was a Polish bakery called Northside Bakery. The bakery was established in the early 1990's when Williamsburg was a center for struggling creative types, and Eastern Europeans were looking for their neighborhood identity in Brooklyn. First on our tasting agenda was Pierogies, a potato pocket traditionally filled with potato and cheese, with or without meat and other veggies. Ours were potato, cheese, and onion. I will never go back to those store bought frozen mass market pierogies again. As far as I was concerned, the tour could have ended right there and I would have been happy.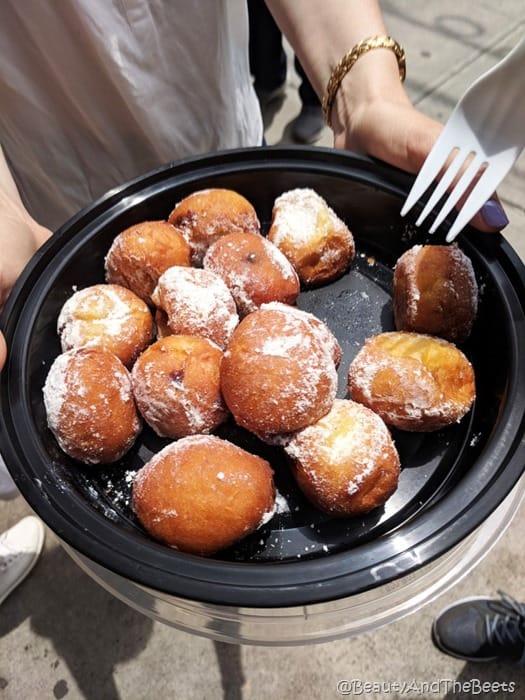 We also shared a plate of Paczki, filled doughnuts. Ours were filled with rose jam, a Middle Eastern delicacy. Polish cuisine has many influences from the Middle Eastern region. Who knew? I was skeptical about rose jam, but after one taste I am hooked. I am not sure if plain old strawberry jam is going to cut it ever again. This tour is making me a culinary snob.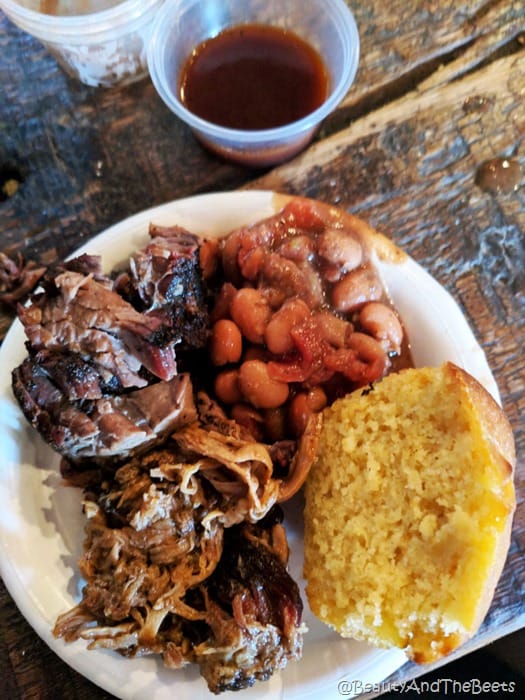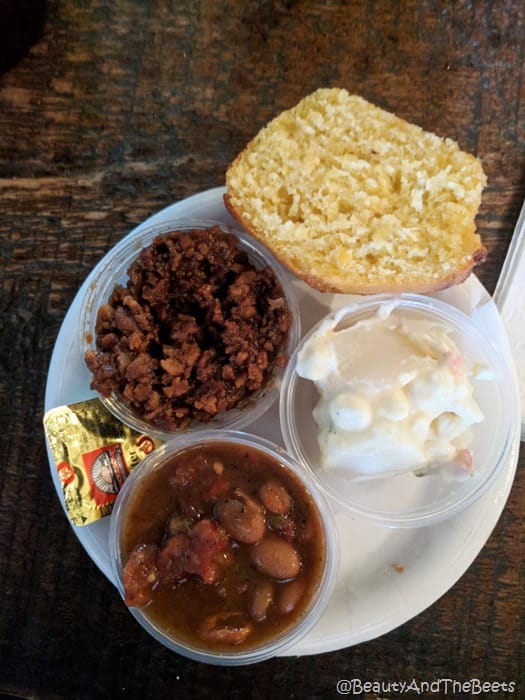 Our next stop was Mable's Smokehouse, a very popular barbecue joint in the heart of Williamsburg, started by an Oklahoma couple. I thought this was where the Vegetarians were going to have to sit out for part of the tour but I was wrong. Mr. Beet, our resident Vegetarian, was served a vegetarian sloppy joe, slaw, and baked beans and loved it. The rest of us enjoyed pulled pork, smoked brisket, baked beans, and cornbread. This BBQ was just as good, if not better, than the barbecue I have enjoyed in both Memphis and Kansas City.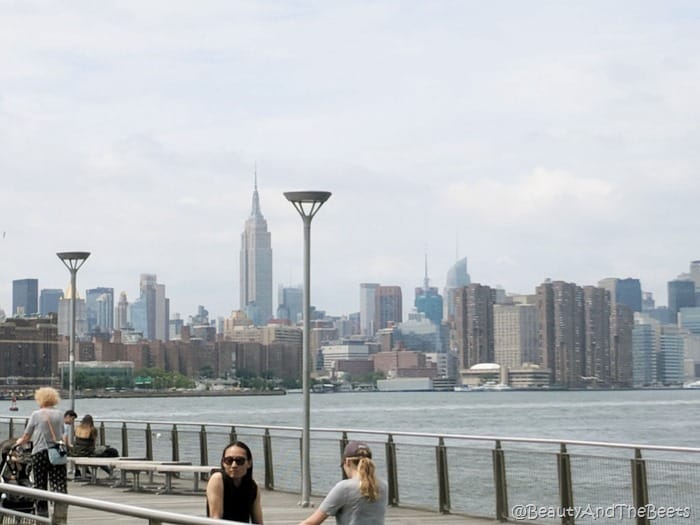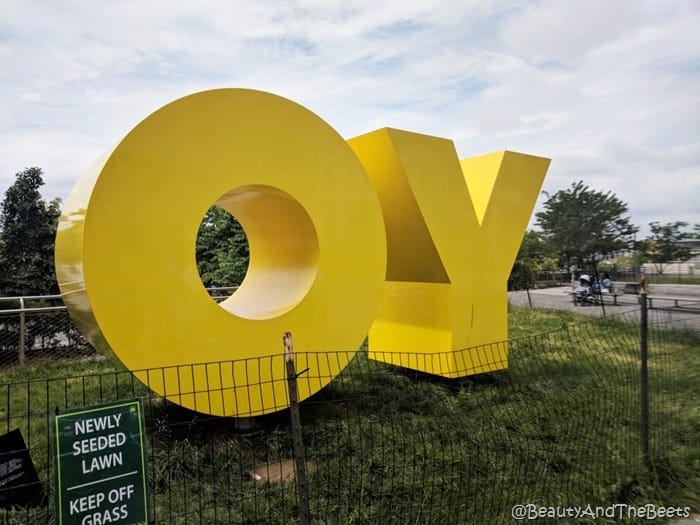 From there we walked over to the North 5th Street Pier and Park where we had some incredible views of the Manhattan skyline across the East River. We also saw the 8 ft. tall "OY/YO" sculpture by Deborah Kass. If you are standing in Brooklyn facing Manhattan, the sculpture reads "OY". If you are across the river in Manhattan facing Brooklyn, the sculpture reads "YO". Fun. Typical New York.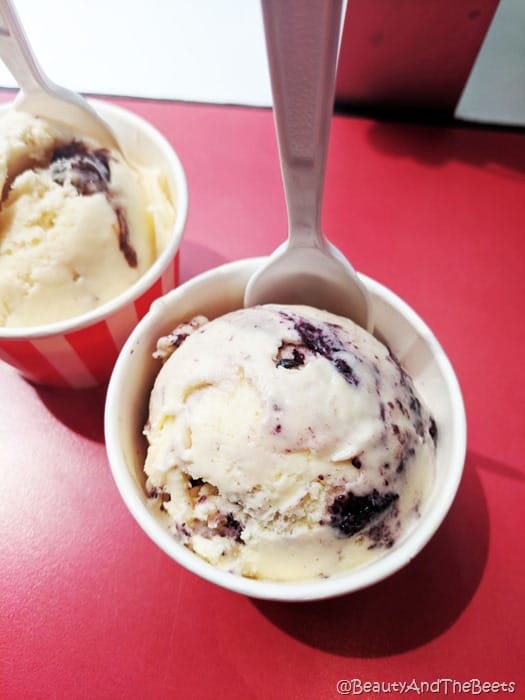 Next we headed for dessert at Odd Fellows Ice Cream Company, made famous by owner Sam Mason's appearance on Iron Chef, where he perfected Skirt Steak Ice Cream. Yes, you read that right. Skirt Steak ICE CREAM. At the shop we were allowed to sample a number of flavors before we each chose a scoop of our favorite. I loved the Olive Oil Ice Cream as well as the Lime Tarragon Sorbet before I settled on a scoop of the Miso Cherry. I think I am moving to Brooklyn for this flavor. And Mr. Beet loved his Buttermilk Honey Blueberry flavor.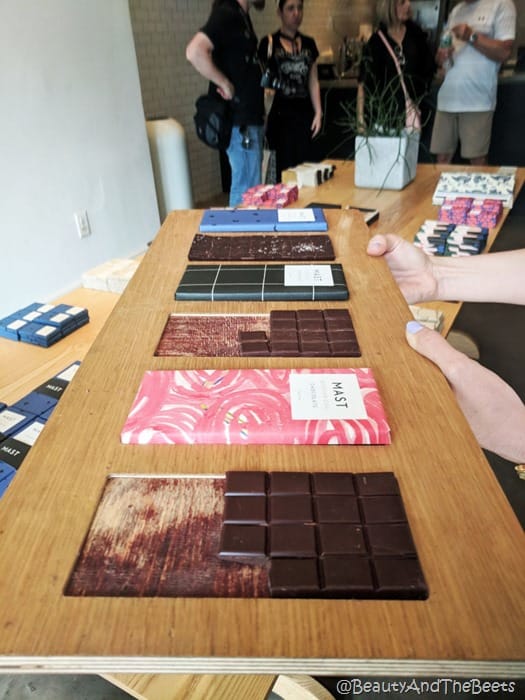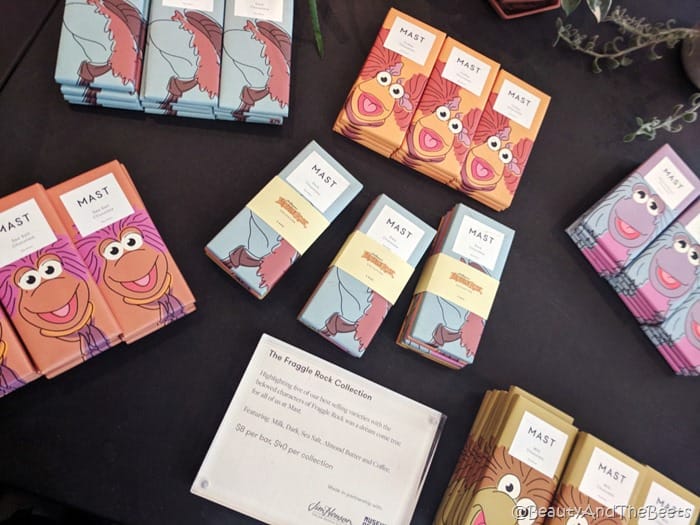 We visited a chocolatier founded right here in Brooklyn called MAST. We sampled several flavors of their chocolate bars, learning to savor by first sucking then chewing. The almond milk chocolate was my favorite. I also stocked up on their collection of Fraggle Rock chocolate bars.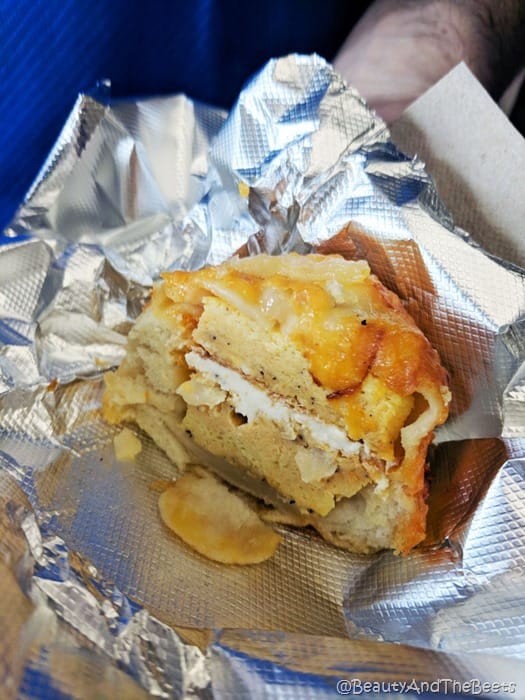 We were on to dessert again as we visited Milk Bar founded by Christina Tosi of Master Chef fame. First we enjoyed bagel bombs, with versions for both the Carnivores and the Herbivores in our group.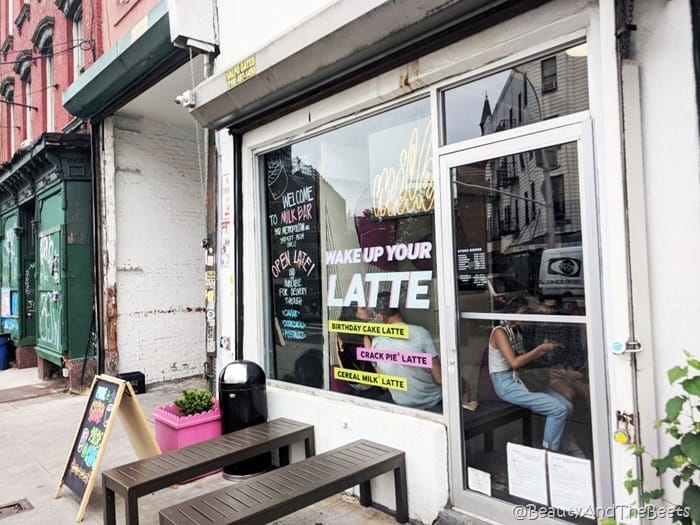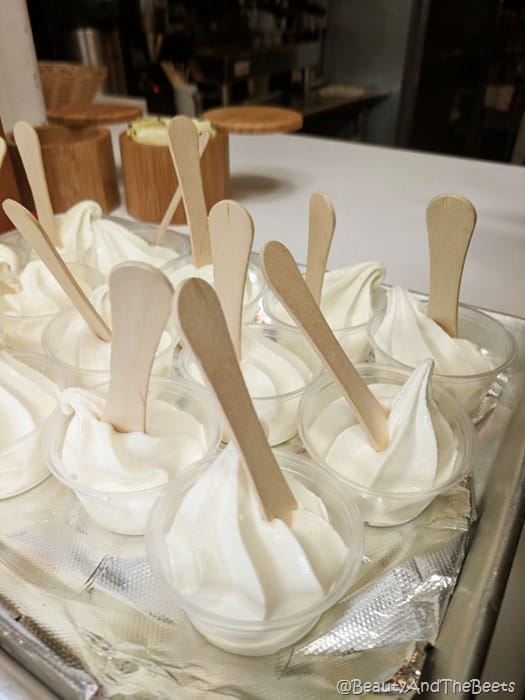 But the highlight here was the Cereal Milk Soft Serve. I have no words. It tastes just like the milk at the bottom of a bowl of Cornflakes. I felt 12 again without all that gangly awkwardness. With each bite I heard Duran Duran and Culture Club singing in my head.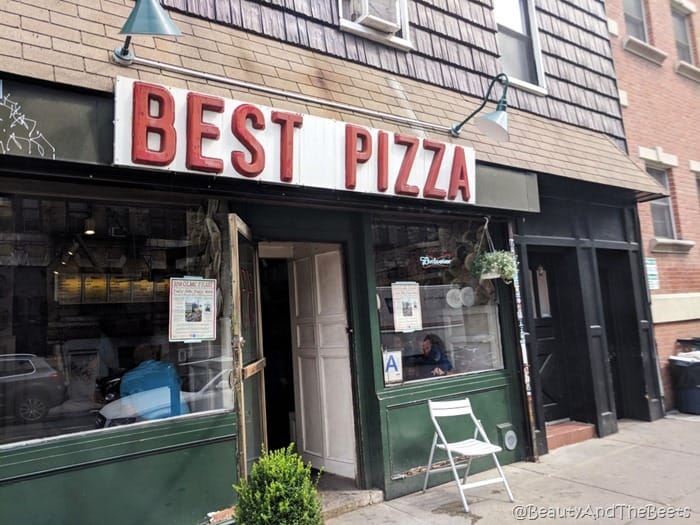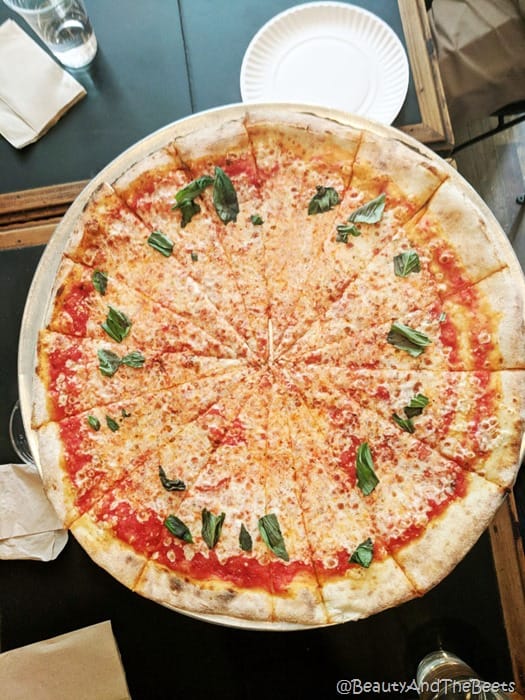 Our last and final stop was to the food most people think of when they talk about Brooklyn – pizza. And there are many opinions on the best pizza in the borough, but we found ours at Best Pizza on Havemeyer Street. Best Pizza was founded in 2010 in an old bakery and uses a century old wood burning oven to cook up some of the best pies in the city. We started with the Margherita pie. It just doesn't get any simpler or better than that.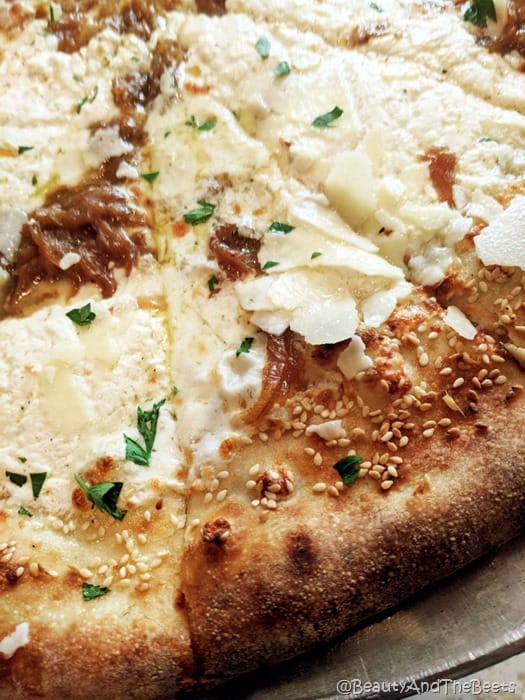 Next we all grabbed a piece of the white pie with caramelized onions and sesame crust. I don't know what else to say but stunning if you can imagine a pizza being stunning.
The tour, as you can see, is filled with amazing delights with something for everyone whether you are a Vegetarian or a big meat eater. Reservations are absolutely required where you will have an opportunity to specify your dietary restrictions. I can only say the tour is totally doable for Vegans and Vegetarians but I cannot vouch for any other diets. Expect lots of food and calories, though you do walk a lot of it off over the course of two miles.
For more information visit their website here –> Like a Local Food Tours/Williamsburg – the Brooklyn food tour is $50, and meets Wednesdays, Fridays, and Saturdays at 1pm. There is also a Sunday Boozy Brooklyn Tour for $55.