Tomorrow is the "Super Bowl" of the World Cup after a month long worldwide competition that has had Americans glued to TV sets. It all comes to an end Sunday afternoon as Germany prepares to battle Argentina in the final match. Even though the USA was knocked out of of competition a few weeks ago, there will be plenty of Americans tuning in to see the game. Though somehow I doubt the commercials will be quite as exciting as those in the American Super Bowl. This week I am making Cauliflower Buffalo Wings for when we watch the game.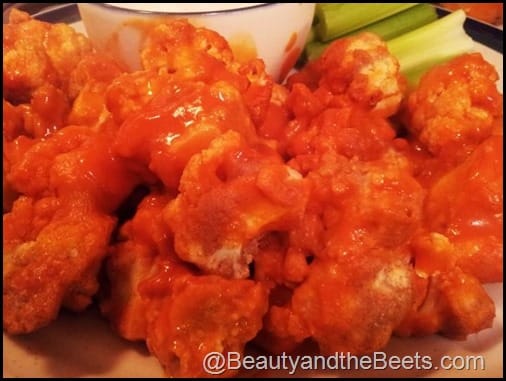 I am revisiting my post of Vegan Super Bowl snacks and reposting my recipe for Spicy Cauliflower Buffalo Wings for the World Cup finals along with a recipe for Vegan Blue Cheese Dressing. I love the flavor of spicy buffalo sauce and the cool creaminess of blue cheese dressing. However, even in my meat eating days I have never enjoyed knawing meat of the bone with my teeth so I never ate many chicken wings to begin with. I have since come across this recipe for a Vegetarian cauliflower version. Just a little snack to enjoy the game with.
Cauliflower Buffalo Wings with Vegan Blue Cheese Dressing
Yield: 4

Prep Time: 5 minutes

Cook Time: 23 minutes

Total Time: 28 minutes
Ingredients
For the "wings":
1 cup unsweetened almond milk,, can substitute plain water as well
1 cup flour,, gluten-free works well
2 tsp. garlic powder
1 head of cauliflower,, chopped into pieces
1 cup hot sauce
1 Tbsp. olive oil or melted vegan margarine
For the Vegan Blue Cheese Dressing:
1/4 block of extra firm tofu
1/2 tsp garlic powder
1 cup Veganaise
1/4 tsp tahini paste
1 tsp lemon juice
1 tsp apple cider vinegar
Instructions
Preheat the oven to 450°F.
Combine the soy milk, flour, and garlic powder in a bowl and mix until well combined.
Coat the cauliflower pieces with the soy milk/flour mixture and place in a shallow baking dish. Bake for 18 minutes.
While the cauliflower is baking, combine your buffalo sauce and olive oil or margarine in a small bowl.
Pour the hot sauce mixture over the baked cauliflower and continue baking for an additional 5 to 8 minutes.
Serve alongside Vegan Blue Cheese dressing and celery sticks.
For the Blue Cheese Dressing:
In a medium bowl, mix all ingredients except the tofu until you have a nice creamy dressing-like consistency.
Crumble tofu into the dressing mixture to resemble blue cheese crumbles.
Pin this for later:


Will you be watching the World Cup final?