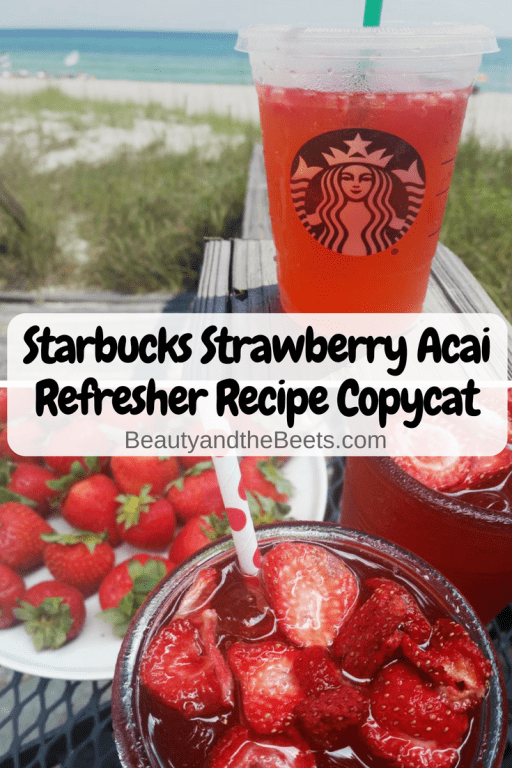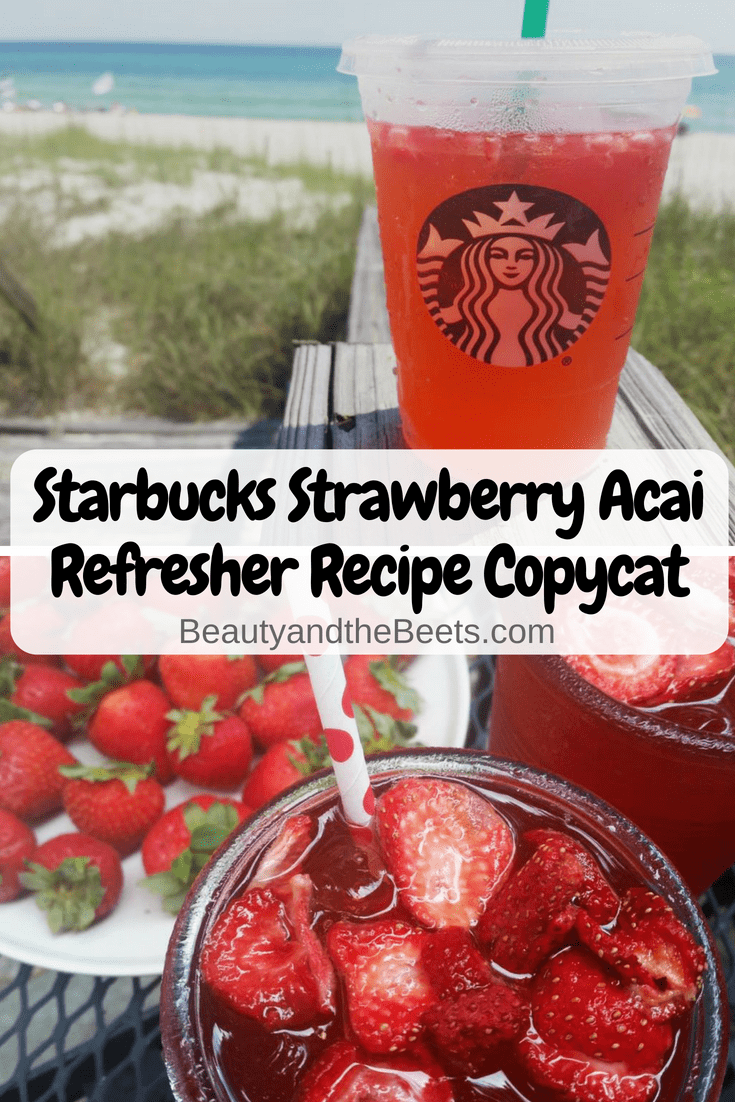 I have been on this major Starbucks kick lately. I have never realized the enormous variety of drinks they offer- from highly caffeinated espresso lattes to coffee bean Frappuccinos to iced refreshers with barely any caffeine at all. Most recently I have made it a point to try (and recreate) all those colored drinks (see links at the bottom of this post) to all the special seasonal flavors like S'mores and Honey Cream. And people get so creative trying to find the next big thing to go viral at Starbucks (hence the pink, purple, orange, and green drinks). But what about those drinks that have already been tried and true on the menu? Those drinks that don't require special instructions or upcharges? Are we no longer ordering straight off the menu anymore?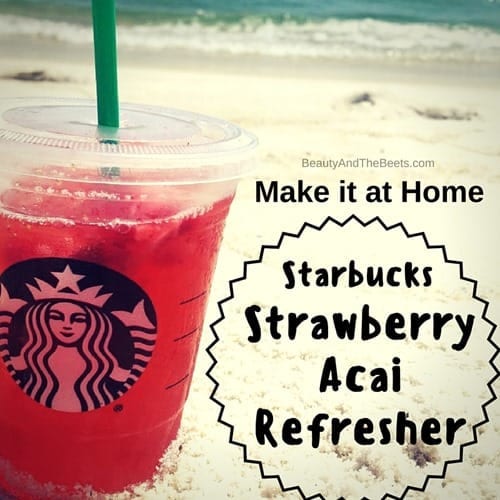 While I was trying to recreate the Pink Drink at home, I learned about one of the newer Refresher flavors. The Refresher craze started with the Cool Lime flavor, then Starbucks introduced the Very Berry Hibiscus Refresher and the Valencia Orange variety. And now the only one left is the Very Berry Hibiscus and the newer flavor- Strawberry Acai.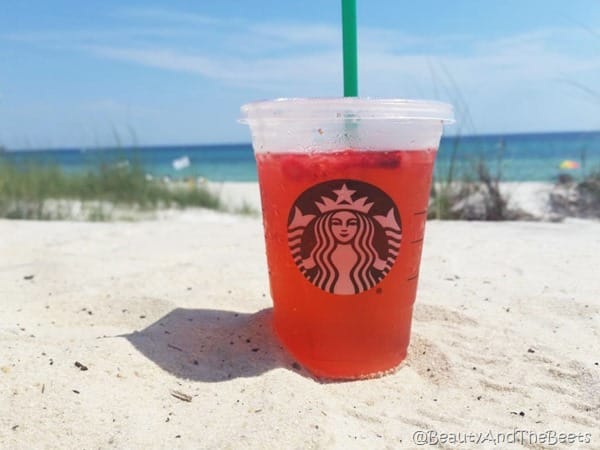 I love these Refreshers- they are just so perfect in the summer – iced, cold and fruity. But I have a hard time ordering these at Starbucks because (a) they are fairly expensive and (b) I feel like they are just so watered down for the price. So what's a girl to do? Make our own of course! So here is my version of the Strawberry Acai Refresher recipe.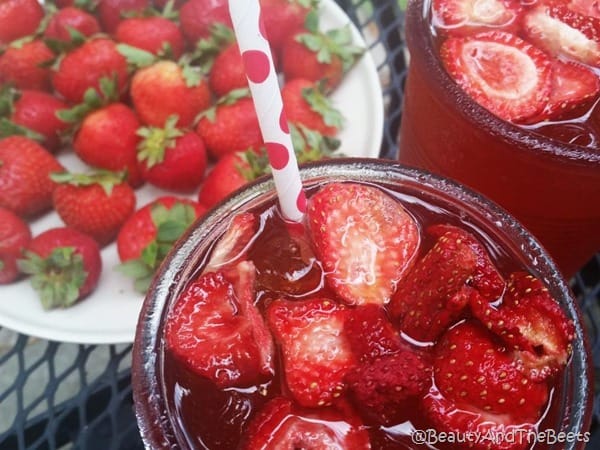 I already tackled the Very Berry Hibiscus Refresher, so now it is time to make the newest flavor- the Strawberry Acai. It's very easy to make at home, but not as convenient as one may think. Mainly just because you have to go on a bit of a hunt for the freeze-dried strawberries, green coffee bean powder and Acai powder. Whole Foods or Amazon are my suggestions for a one stop shop (I included links to these ingredients on Amazon and yes, these are my affiliate links – no pressure!). However, once you find these, making the Strawberry Acai Refresher is very simple. And once you buy these products, you will many uses out of them, or at least many glasses of this Strawberry Acai beverage!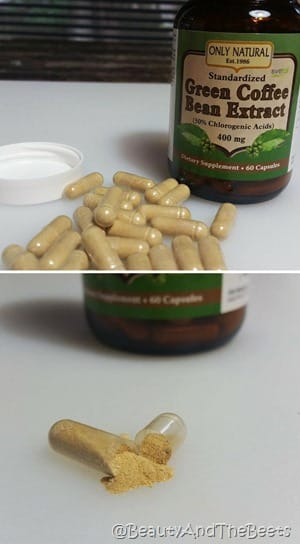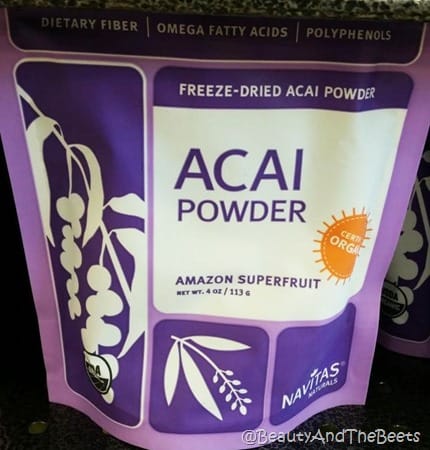 The first step is to make the Strawberry Simple Syrup – very easy. Boil 1 cup of freeze-dried strawberries with 1/2 cup sugar, 1/2 teaspoon of green coffee bean powder and one cup of grape juice. Strain the syrup, add water and garnish with fruit. Easy right?
*And by the way, if you want to make the pink drink, substitute the water for coconut milk.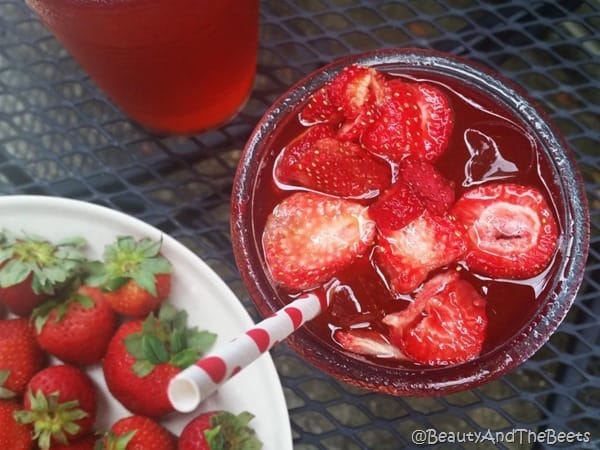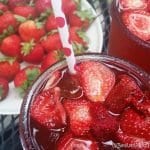 DIY–Starbucks Strawberry Acai Refresher recipe
Make it at home - copycat Starbucks Strawberry Acai Refresher.
Ingredients
1/2

cup

sugar

1

cup

filtered water

1/4 - 1/2

tsp

Green Coffee Bean Powder,

the powder of about two capsules broken open

2

tsp

Acai Powder

1

cup

white grape juice

2

cups

cold filtered water

ice

freeze-dried or fresh strawberries,

for garnish
Instructions
Add the freeze-dried strawberries, sugar, 1 cup filtered water, and the Acai powder to a saucepan and bring to a boil. Simmer for ten minutes to create a syrup.

Pour the strawberry mixture into a fine mesh strainer, capturing the syrup in a wide lipped cup or bowl. Gently push on the pulp using the back of a spoon to release all the liquid. Allow the syrup to cool.

Fill two serving glasses with ice. Divide the cooled syrup among the two glasses, then divide the white grape juice 1 cup of cold filtered water to each. Add in the green coffee bean powder and stir or shake to blend.

To be even more Starbucks authentic, add everything to a cocktail shaker and shake vigorously before pouring back into your serving glass.

Top with the remaining strawberries reserved for garnish and serve immediately.
Recipe Notes
**I prefer regular water to the white grape juice as the grape juice is so sweet and makes the drink really sweet tasting. However, the Starbucks version does use the white grape juice.
Add more Green Coffee Bean powder for more caffeine.
***This post contains affiliate links. I only link to products that I use myself and believe in. Your support is greatly appreciated.***
Check out my other Starbucks copycat recipes- just click on any image for the recipe.