This recipe for Stovetop Vegan Candied Pecans uses only 4 ingredients. These are so tasty, you won't miss the egg whites and butter!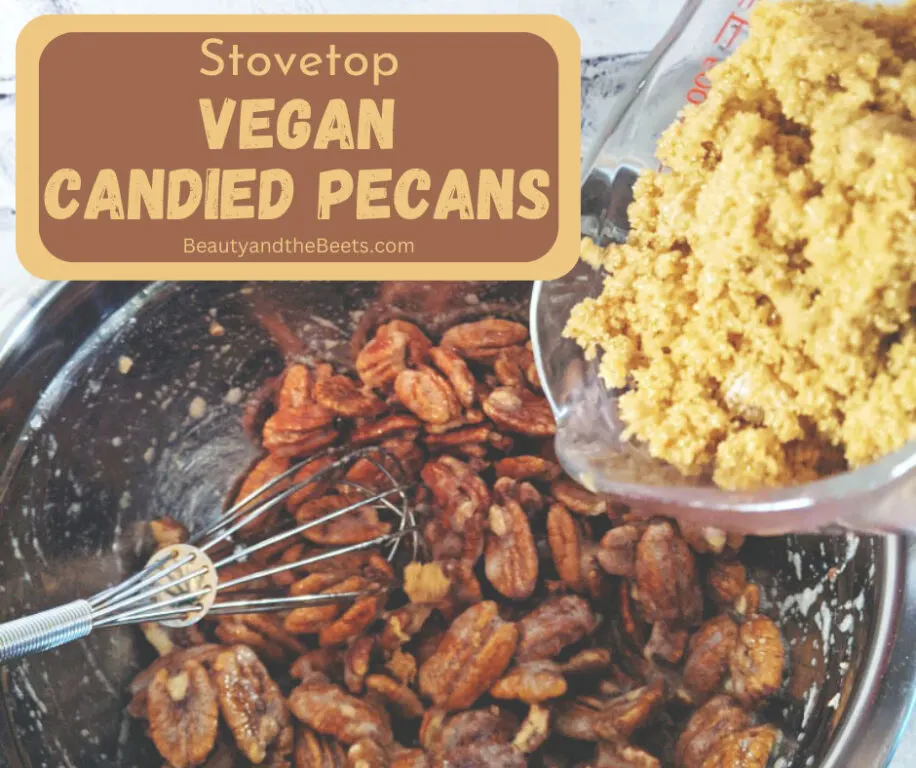 This Vegan Candied Pecans recipe uses water and coconut sugar, while traditionally sugared pecans are prepared with egg whites, butter, and white sugar. White sugar is whitened through a refining process using animal bone char, thus not defining white sugar as Vegan or Vegetarian.
Is cheese Vegetarian friendly?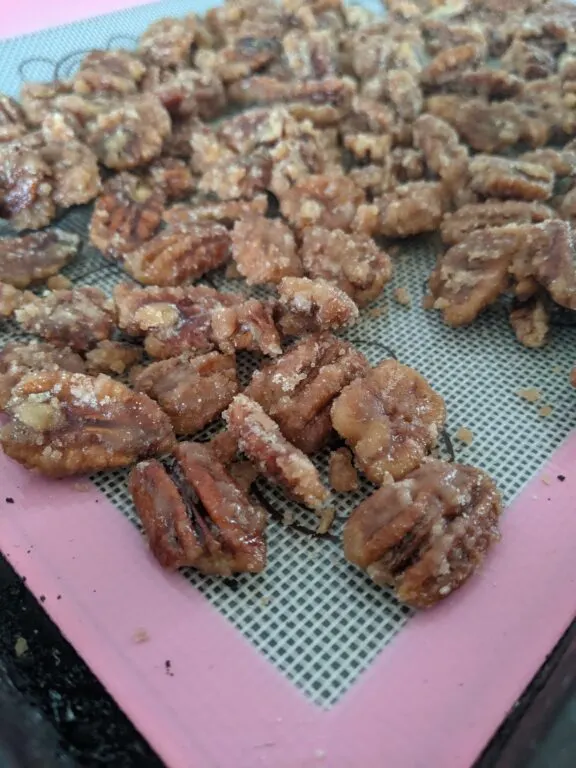 Vegan Candied Pecans require only four ingredients – raw pecans, water, sugar, and salt. I prefer using coconut sugar but if you have an allergy, raw can sugar works just as well.
There is a candy shop on the riverfront in Savannah that sell glazed pecans and praline pecans. The Savannah Candy Kitchen is often packed with tourists sampling the warm freshly baked pecans. While candied pecans use egg whites and butter, praline pecans are prepared with brown sugar, corn syrup, and butter.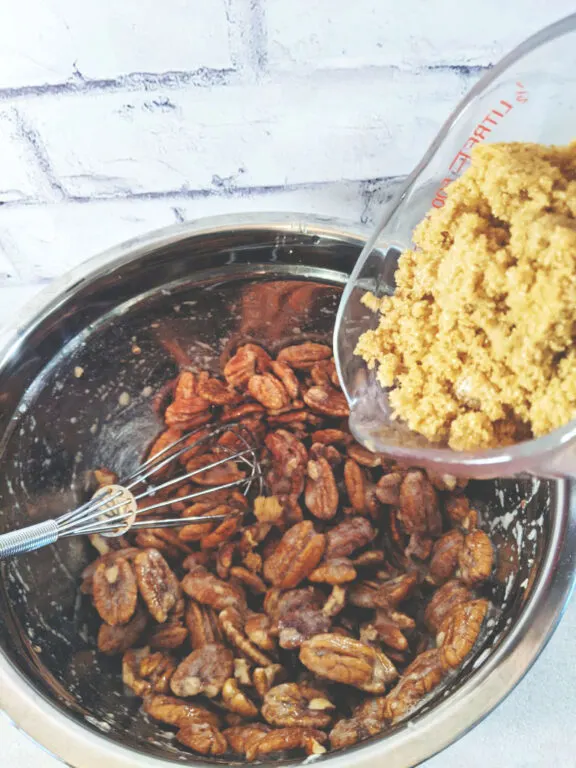 While the stovetop method is a little more labor intensive, I feel it's easier to control the browning and sugar coating while stirring. It's also quicker to use the stove as the heat is slightly higher than when baking in an oven. The stovetop version is ready is 35 minutes versus a little over an hour for the oven recipe. However, the oven method is also best for baking candied pecans in large batches.
Store cooled candied pecans in an airtight container and keep at room temperature for up to a week.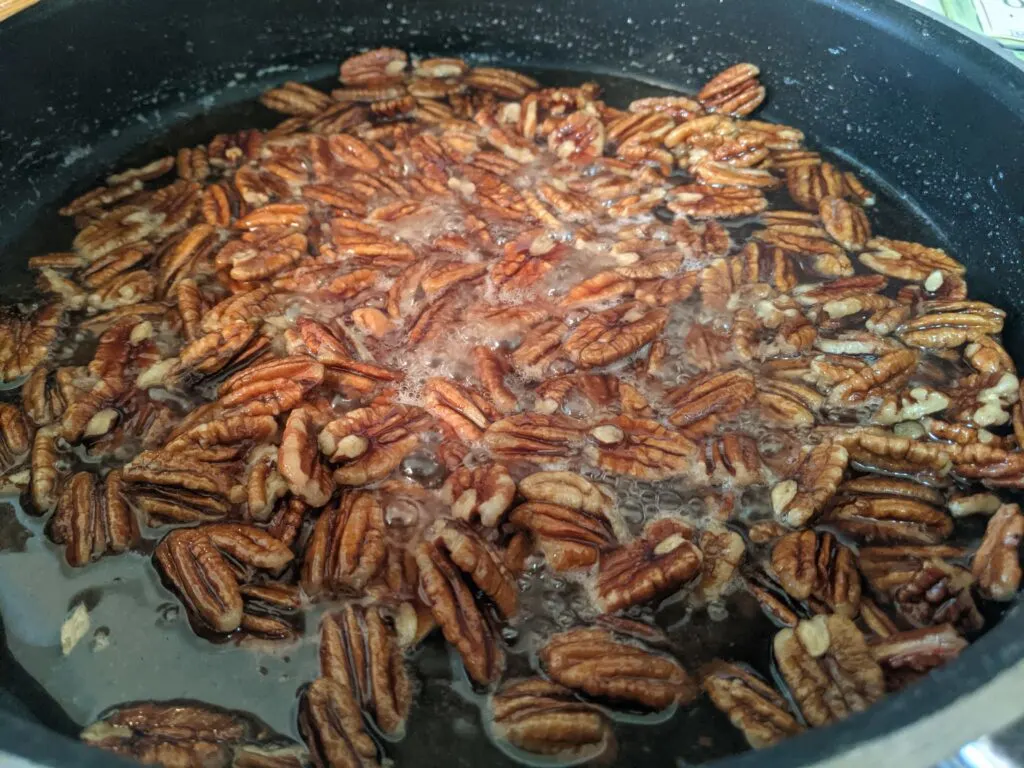 Once you master the art of making candied pecans, whether Vegan or using a recipe with egg whites and butter, the possibilities utilizing them in other recipes is endless.
French Toast, Lemon Ricotta, and Candied Pecans
Baked Sweet Potatoes with Brussels Sprouts, Cranberries, and Pecans
Salted Caramel Candied Pecan Carmelitas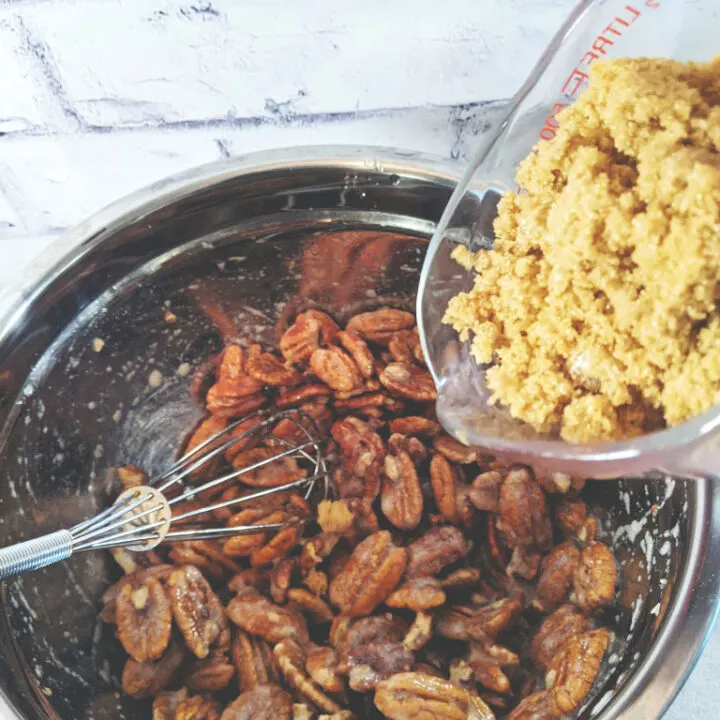 Vegan Candied Pecans
This recipe for Stovetop Vegan Candied Pecans uses only 4 ingredients and is as tasty and delicious as its non-Vegan version.
Ingredients
2 cups raw pecan halves
1 cup coconut or raw cane sugar
2/3 cups water
1/4 teaspoon salt
Instructions
Line a large baking sheet with parchment paper.
Add the pecans, sugar, water, and salt to a large mixing bowl and stir to combine.
Add pecan mix to a high lipped skillet or medium sized pot and cook over high heat until mixture boils.
Reduce heat to medium high and continue to cook for 10 minutes, stirring occassionally, then reduce heat to low.
Continue to simmer for 20 minutes, stirring occassionally until liquid becomes darker and thicker.
Remove from heat and add pecans to parchemnt paper, spacing out as possible.
Let cool. Stir in an airtight container at room temperature for up to a week.