Learn why you should incorporate cooked tomatoes into your diet. Enjoy this quick and easy recipe for baked tomatoes with goat cheese.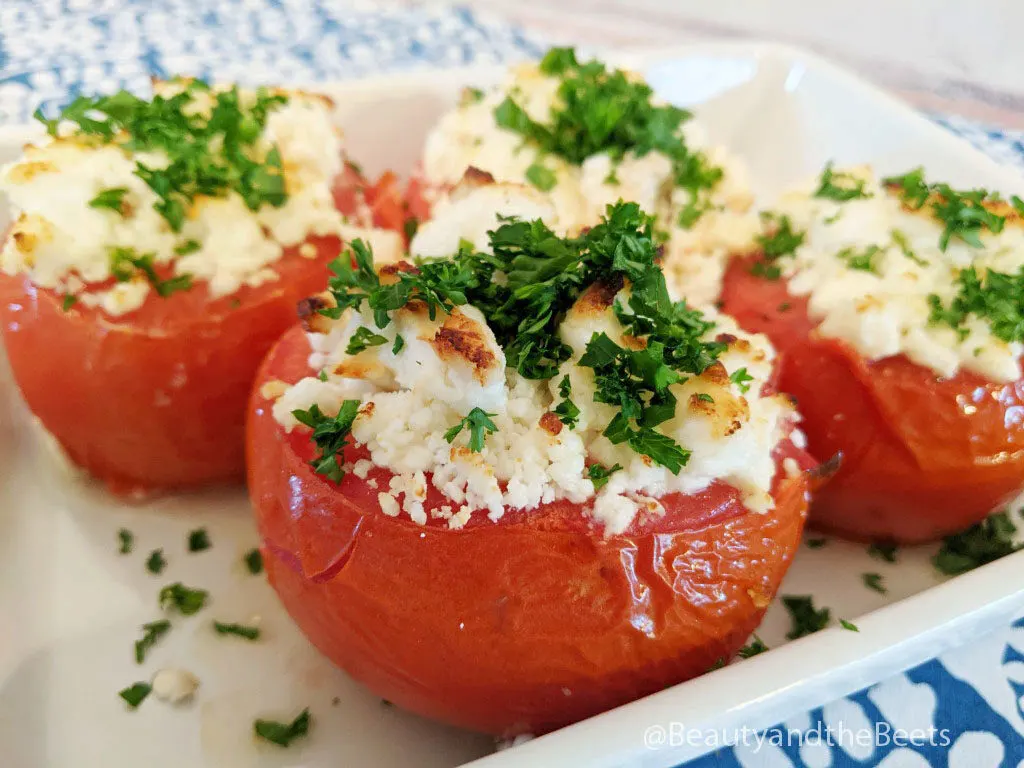 You need baked tomatoes in your life. Tomatoes are high in lycopene, a naturally occurring that gives tomatoes their bright red color. And baking tomatoes actually changes the lycopene into a form that's easier for the body to absorb, increasing its benefits. Especially when combined with a healthy fat like olive oil.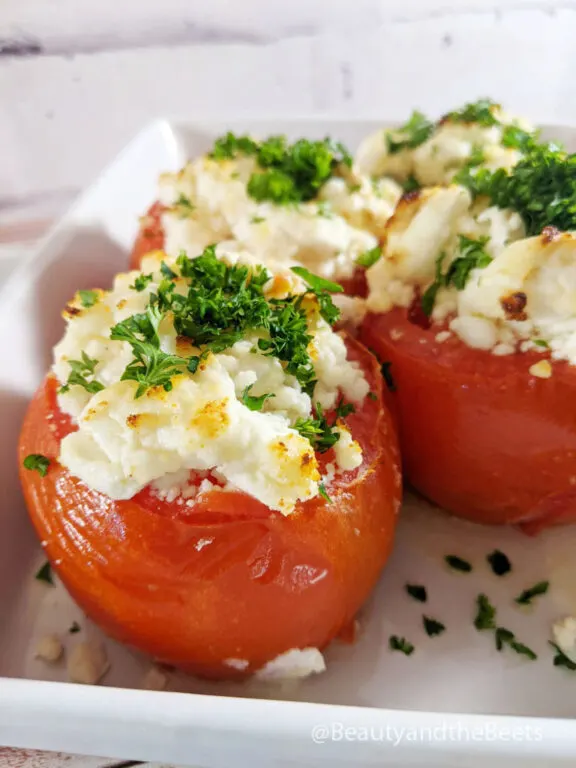 I've been baking tomatoes as a side dish for years. I love Parmesan Baked Tomatoes and these Four-Ingredient Parmesan Crusted Tomatoes. Roasted tomatoes also are a great alternative to store bought sugar laden marinara sauce. Try this Roasted Tomato and Garlic pasta topper or make your sauce with cooked tomatoes. Baked, sautéed, or roasted, cooked tomatoes are magical and super versatile.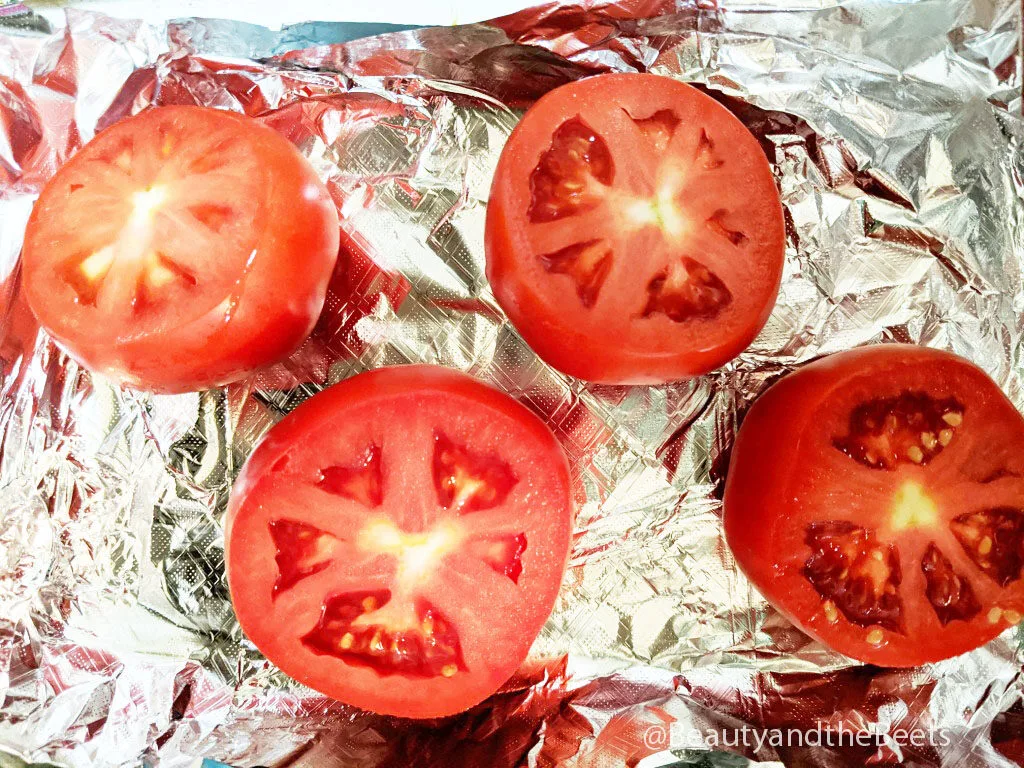 This recipe for baked tomatoes with goat cheese comes together in less than 15 minutes. Why goat cheese? Well goat cheese is considered more nutritionally dense and healthier when compared to cow cheese. And goat cheese has a nice flavor that complements baked tomatoes. It's win-win. Healthy and delicious.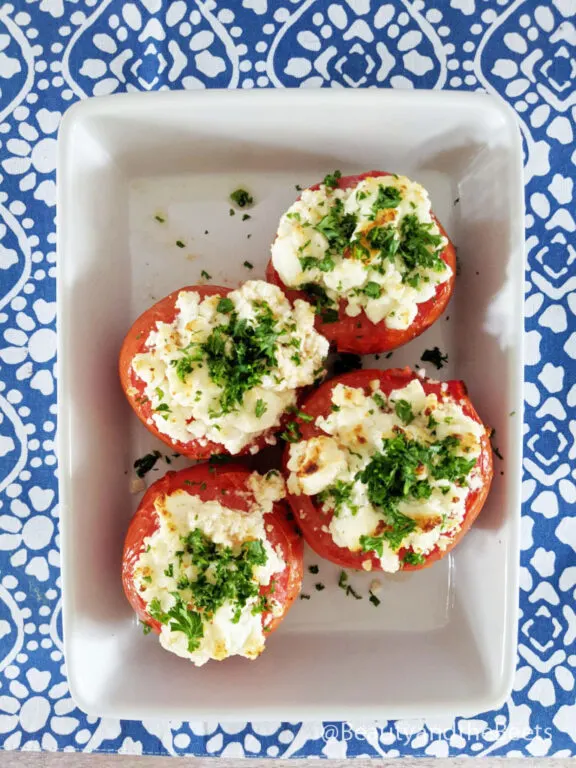 The key here is to bake the tomatoes on their own, then add the goat cheese and let sit under the broiler for a few minutes. Goat cheese doesn't melt like cow cheese, but it will soften nicely adding to its creamy texture.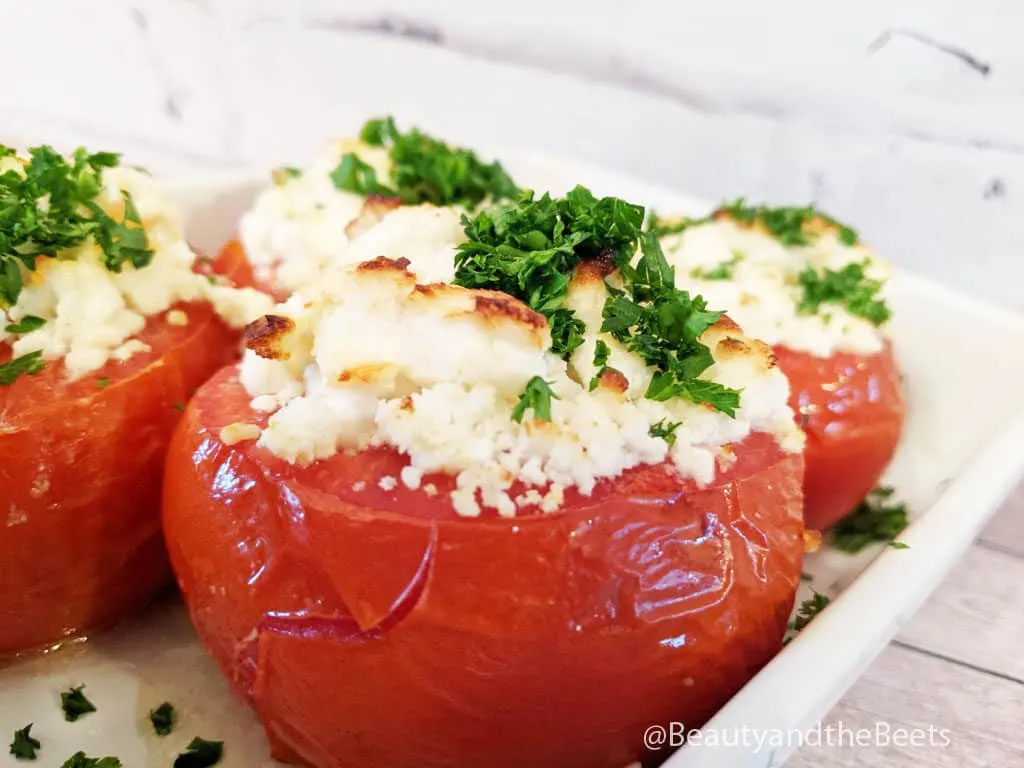 I love to serve these alongside an nice vegetable omelet at brunch or as a main dish with a side of rice and beans. Either way, baking tomatoes in any form will elevate any meal to being healthier and more delicious. For more information on the benefits of cooking tomatoes, read this article from Cornell University and get cooking!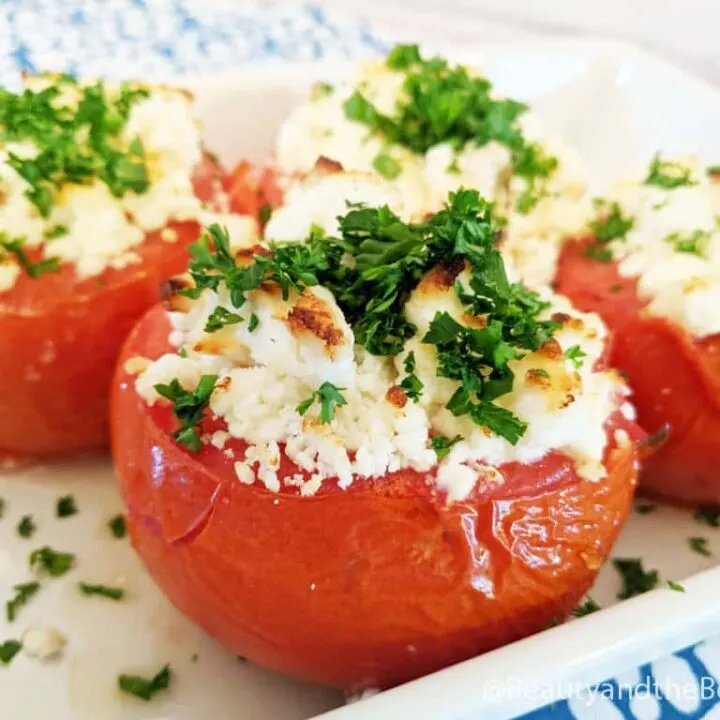 Baked Tomatoes with Goat Cheese
Quick and Easy Baked Tomatoes with Goat Cheese come together in less than 15 minutes and are a great side dish to any meal!
Ingredients
4 medium to large beefsteak tomatoes
1 cup crumbled goat cheese
2 tablespoons olive oil
chopped parsley, for garnish
Instructions
Preheat oven to 425°.
Cut a tiny sliver off the bottom of each tomato so they stand upright and place in a glass baking dish or on a parchment lined baking sheet.
Drizzle the tomatoes with the olive oil and bake in the oven for 8 minutes.
Remove the tomatoes from the oven and turn the oven to broil.
Top each tomato with 1/4 cup of goat cheese and place the tomatoes under the broiler for 2 minutes.
Remove the tomatoes from the oven and place on serving dish. Sprinkle with parsley and serve immediately.