Air Fryer Asparagus with Hollandaise sauce takes 10 minutes from start to finish!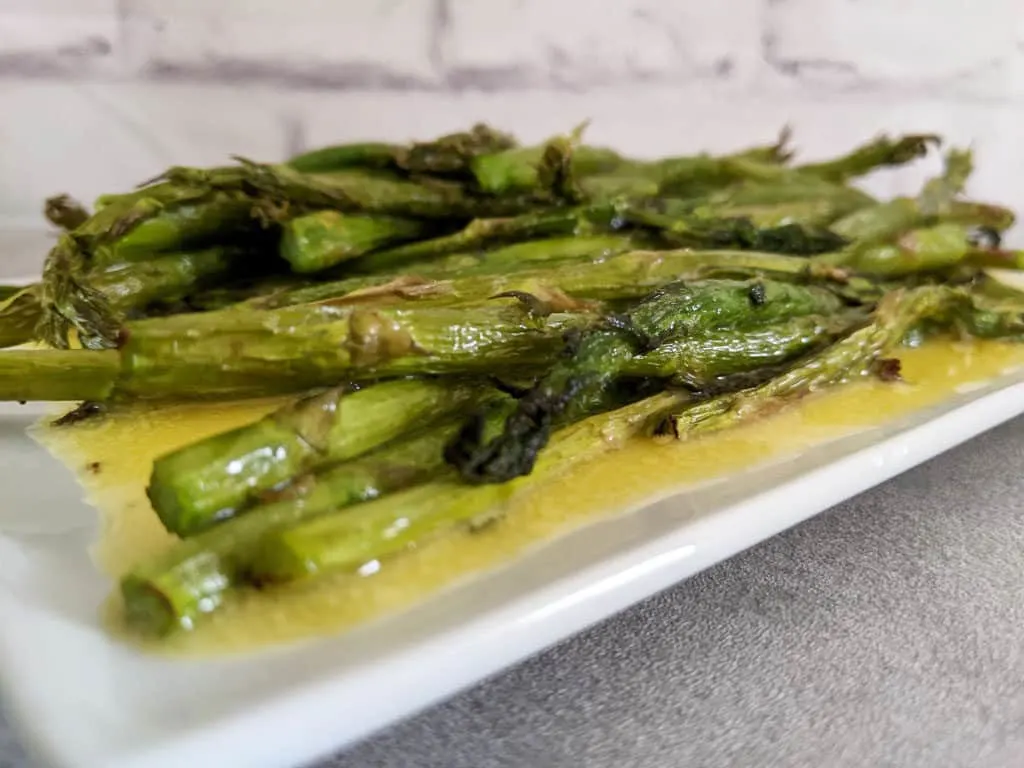 Who doesn't love a delicious plate of roasted asparagus with a hearty drizzle of Hollandaise sauce? Pairing asparagus and Hollandaise is as natural as rice and beans, or Romeo and Juliet. Then again, a good Hollandaise sauce can really pair with about anything really well.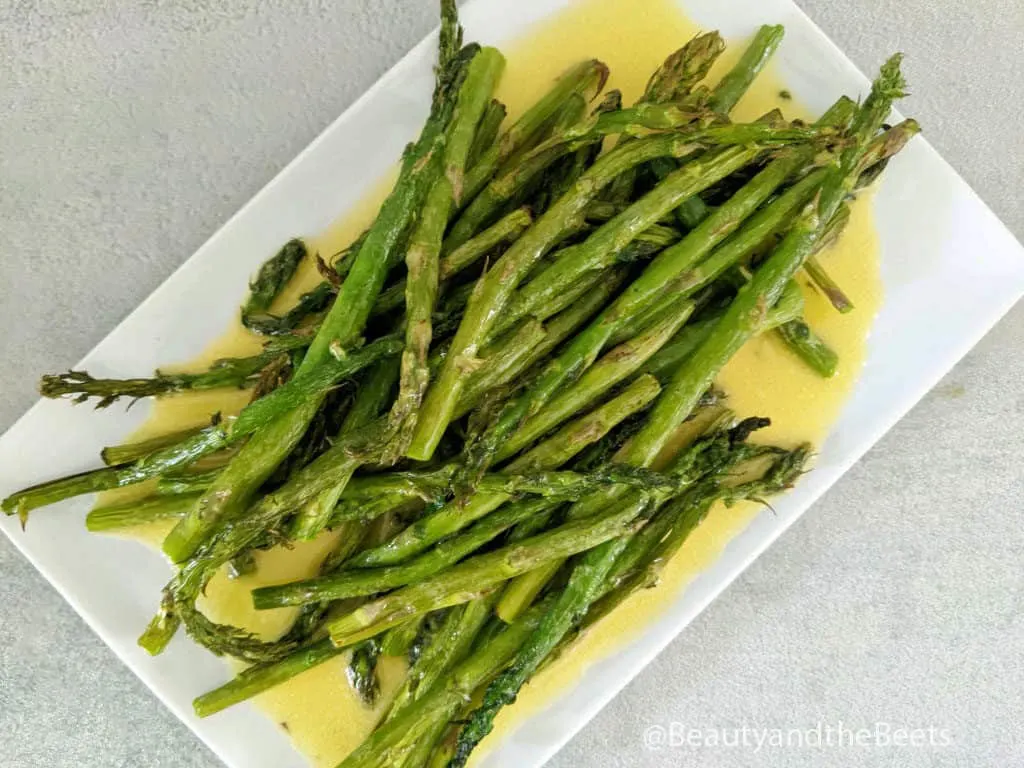 Oven Roasted versus Air Fryer Asparagus:
Oven roasted asparagus takes about 20 minutes including the time it takes to preheat the oven and roast, or you can use an air fryer and cut your cooking time in half! Ten minutes for prep and cooking. While the asparagus in the air fryer, you can prepare the Hollandaise sauce. The cool thing about using an air fryer is that there is nothing to preheat, just set the temperature and the timer and go.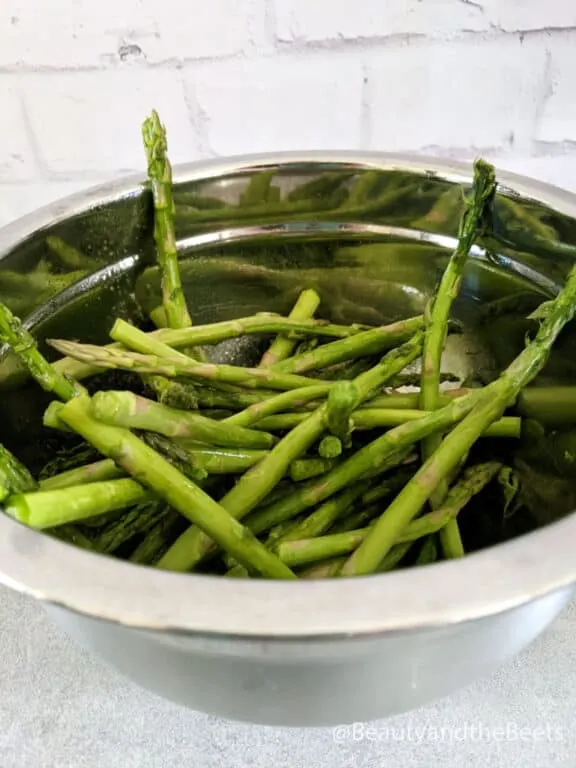 STEP ONE:
Trim the asparagus and add to a large bowl. Drizzle with olive oil and toss to coat the asparagus stalks.
STEP TWO:
Add the asparagus to the basket of the air fryer, set the temperature to 400°F and set the timer for 7 minutes. As the asparagus is cooking, prepare the hollandaise sauce.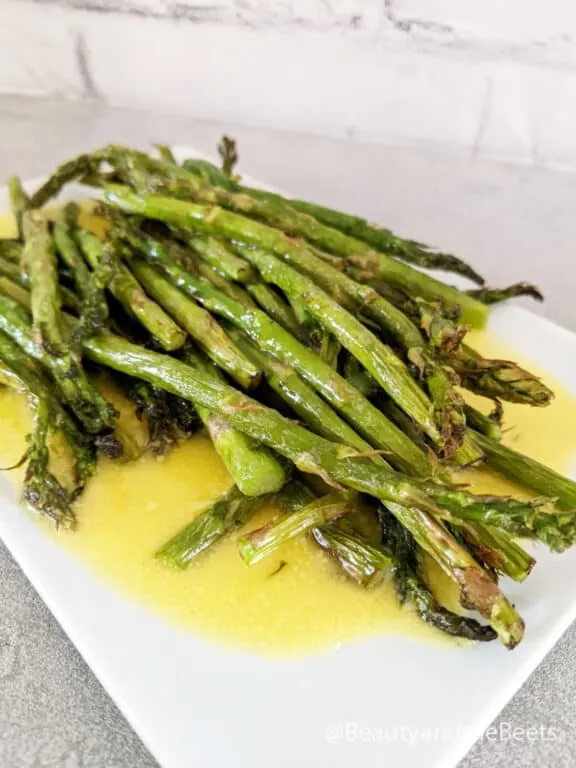 The Hollandaise Sauce:
I will pour Hollandaise sauce on just about anything. Eggs Benedict is my go to breakfast dish because of the sauce. I will pour Hollandaise on a baked potato and broccoli and call it dinner. A good Hollandaise sauce can make or break a dish.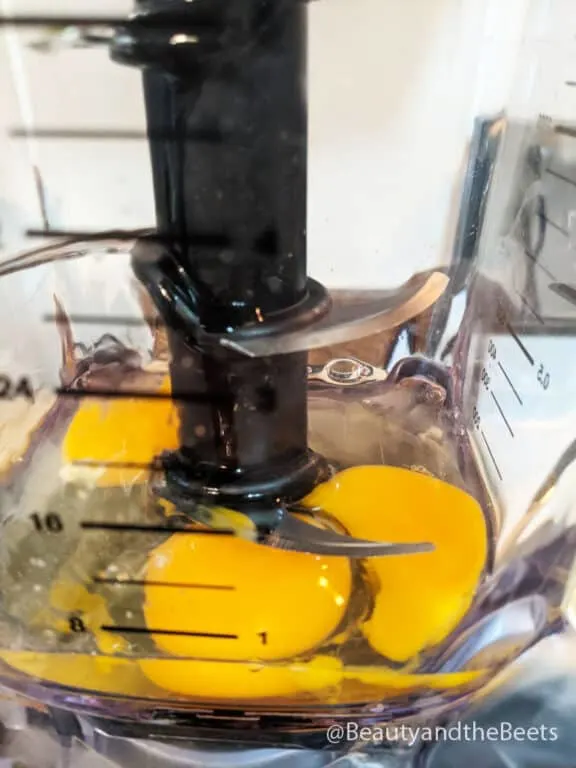 Asparagus just wouldn't be the same without a delicious Hollandaise sauce. Melted butter, egg yolks, Dijon mustard and lemon juice in the blender with a pinch of salt and paprika. The trick to the Hollandaise sauce is to blend it quickly so the hot melted butter doesn't begin to cook the egg yolks.
This asparagus recipe is also a delicious addition to this Avocado Pasta recipe or as a side dish for this copycat Chick-Fil-A vegetarian Wraps. Pour the Hollandaise sauce over roasted veggies or roasted potatoes.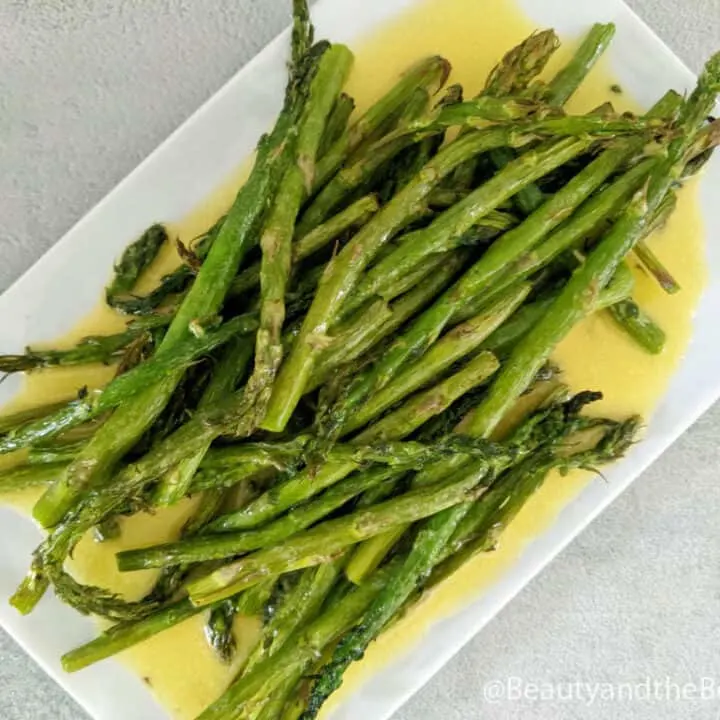 Air Fryer Asparagus with Hollandaise Sauce
Air Fryer asparagus with Hollandaise sauce takes ten minutes from start to finish.
Ingredients
For the asparagus:
1 pound fresh asparagus spears, trimmed
1 tablespoon extra virgin olive oil
For the Hollandaise sauce:
1/2 cup butter
3 egg yolks
1 tablespoon lemon juice
1 teaspoon Dijon mustard
pinch of salt
pinch of paprika
Instructions
Place asparagus spears in a large bowl and drizzle the olive oil. Toss to coat.
Add the asparagus to the basket of an air fryer. Set the temperature to 400°F and set the timer to 7 minutes.
While the asparagus is cooking, melt the butter in the microwave for about one minute.
Add the egg yolks, lemon juice, Dijon mustard, salt, and paprika to a blender and pulse a few times.
Add the melted butter and blend immediately. (you do not want the heat of the butter to cook the egg yolks)

°